Series Preview: Cubs at Florida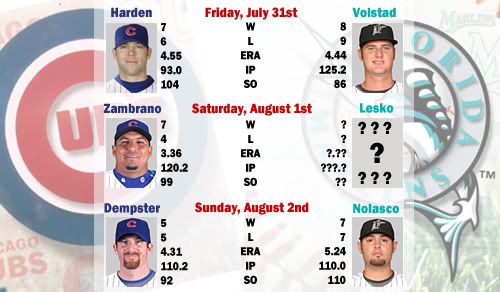 Overview
What a difference a week makes, eh? Last Friday the Cubs were 1.5 games out of first place with the Astros and Brewers not far behind. Now the Cubs are in first after going 6-1 at home and the NL Central race seems less like a swingers orgy and more like a monogamous relationship.
The Cubs are 11-3 since the All-Star Break and are playing like the team everyone was having wet dreams about during the winter. They hit road next and will not be returning to Wrigley until August 11. First stop: South Beach.
Although the Marlins have won seven of their last eight games, they are currently 6 games behind the Phillies. Let's not be fooled though my friends, the Marlins certainly have something to play for.
In their only meeting of the season, the Cubs took three of four games from the Fish in Chicago.
Needless to say, that means practically nothing now because this Cubs team is different than anything we've seen so far this season. Say what you will about the difficulty of their opponents during this hot streak, but the Cubs offense is straight ballin' homie. I guess that makes this preview particularly hard write because the Cubs are actually…like…good on a consistent basis.
Alas, I will push on. To the matchups!
The Matchups
Friday, July 31st – Rich Harden vs. Chris Volstad
Baseball Reference has Volstad listed at 6'7''…wait for it…and 190 lbs. Holy crap. Someone get this guy a cheeseburger before the wind picks up. While Big V can bring the heat with his fastball, the guy has suffered some control issues in his last two starts. He's allowed 4 walks in both contests (giving up 1 earned run and 4 earned runs respectively). Expect the Cubs to be patient and test Volstad's control.
After Rich Harden's last start, at least we know that he is NOT a vampire. However if he is actually a vampire, then we are all screwed because they can walk among us during the day. Seriously though, Count Harden threw six innings giving up just 1 run while striking out 8 Reds during a DAY game at HOME. Since the ASB, Rich is 2-0 with a 0.95 ERA. He vants to strike you out.
Saturday, August 1st – Carlos Zambrano vs. Burke Badenhop?
We may not know what carcass the Marlins are going to roll out on the field for the Cubs to feast on, but all accounts seem to point to Burke Badenhop. This guy has been used mostly as a reliever all season, so it's safe to say he won't last more than 5 innings at best. Like Russ Ortiz, Badenhop (a righty) is stronger against left-handed hitters. I'm not sure if you saw what the Cubs did to Ortiz yesterday, but he was waived after the game by the Astros. Just saying.
Zambrano finally pitched like an ace in his last start but he still didn't get the win. Such is life. The Marlins don't take many walks (10th in the NL) and are notorious hackers. This should please Big Z as he seems to work better against teams with little patience. I predict many strikeouts. And the people rejoiced.
Sunday, August 2nd – Ryan Dempster vs. Rickie Nolasco
Nolasco, the "ace" of the Marlins' staff, has not had an outstanding season so far. With a 7-7 record and a 5.24 ERA, I see no reason to fear him. One could argue that Nolasco is getting better as evident by the 2 earned runs he has given up in his last two starts. But one could also argue that my master's degree will get me a job sometime soon. In both cases, you'd be wrong.
Dempster got shelled in his last start. To be honest, the guy should have probably pitched a minor league assignment before coming back to the big squad. Besides his walks, what worries me most about Dempster is the number of homers he has given up. In 2008, Demp gave up 14 dingers all season. Guess how many he has given up this year. That's right, 14. This could be a high scoring affair.
Conclusion
I really like all the matchups this weekend for the Cubs. It's not out of the realm of possibility to think they could pull off the sweep. However I'm predicting they'll lose at least one game (most likely Dempster's start).
Like I said above, it's hard to tell what to expect from the Cubs now. They could just be teasing us and we'll have Cubbie Blue Balls at the end of this road trip. Or perhaps they will kick ass across America and come back to Wrigley in first with a nice lead.
I now want to use this space to welcome the newest members of the Cubs to our team: John Grabow and Tom Gorzelanny. Although I'm not thrilled about moving Marshall out of the bullpen, this was a decent trade by Hendry. So welcome to the team guys. We'll love you until you screw up. No pressure.
Go Cubs.
Tip for Purchasing Tickets Online
Most online brokers and marketplaces in the secondary market charge a service fee during checkout regardless of what you are purchasing, such as Chicago Bears tickets or anything else. Typically you can walk through the first few steps of checkout to find out if there will be any additional charges. From your friends at Neco.com, the home of transparent pricing.