Game Recap: Cubs 12, Astros 0 -- Pimp Slap Returned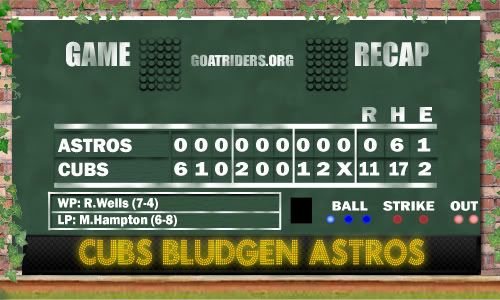 Yesterday, the Astros busted out 11 runs against Chicago, thanks mostly to a tired, incompetent Cubs bullpen. Today, the Cubs returned the favor with an explosion of 12 runs scored. If the laws of "don't score too many one day or you won't have any tomorrow" hold true, then hopefully the two teams have evened things out and tomorrow will be a fair contest.
Wait, the Cubs also held the Astros to 0 runs? Huh. Never mind.
Today's offensive heroes were everybody in the Cubs lineup -- except Fukudome, who was called in to replace an injured Reed Johnson -- with particular nods to Aramis Ramirez (solo homerun in the 3rd*) and Alfonso Soriano (3-run-jack in the 2nd). Even Three Finger Hill, whose offensive numbers are mocked by most pitchers in the league, managed 2 hits and an RBI, raising his average to .143 on the season. Woof.
(*It would have gone farther into the bleachers if only he wasn't nursing that dastardly shoulder injury)
The bloodshed was all made possible in part because the Astros left Mike Hampton in to face the Cubs for 4 innings, despite his surrendering of 7 runs through 2, with a special nod to Randy Wells. In his second career start against Houston, he went 8 innings -- a career high -- allowing 6 hits, 2 walks, only 1 strikeout, and 0 runs. His ERA is now back down to 2.84, he's now 7-4 on the season, and I would again like to reiterate my support for his journey toward Rookie of the Year status.
In moderately unrelated news, SBoxer Ice asks how options work. I'll present two answers -- my understanding of it without researching the rule, and then the actual rule itself. We'll call it the How Well Does Kurt Know the Rules Challenge.
Options work like this -- every player in the minor league system who gets added to the 40 man roster has something like four options. No matter how often said player is called up or sent down to Triple A, it only counts as 1 option for the year. Once said player has run out of options, he must remain with the big league team, pass through waivers, or be released.
According to Baseball America:

When a player is added to a 40-man roster for the first time, the major
league team is permitted three optional assignments of his contract, or
three "option years." This gives them the option to assign that player
to the minor leagues without requiring him to clear waivers. For each
season thereafter in which the player is assigned to a minor league
team, one option is used up.


When a player is out of options, he can still be assigned to the minor leagues, but first he must clear waivers.


A player can receive a fourth option if he has less than five seasons
of pro experience. Draftees who immediately sign a major league
contract will qualify unless they reach the majors quickly and stick
there. Otherwise, they'll have their three options exhausted after
their first three years in pro ball. A season is defined as any year in
which the player spends 90 days on the active list. Short-season and
Rookie leagues don't last 90 calendar days, so a player assigned to
those leagues for an entire year won't accrue a season of pro
experience. Also if a player has a long-term injury, he usually won't
be credited for a season that year. (The exception is if he goes on the
disabled list after spending 60 days on an active list, in which case
the DL time counts as service time.)
So, my understanding of options was slightly simpler than the actual rule, but I had the gist of it. Samardzija's option for 2009 has already been used, as he has already been promoted from -- and demoted to -- Iowa.
The Cubs play for the series win tomorrow.