Game Recap - Astros 11, Cubs 6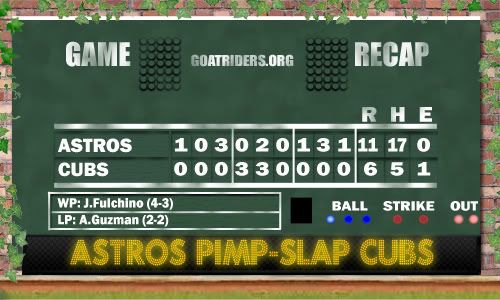 I'm just not sure about that Aramis Ramirez. He probably can't help the Cubs if he's not 100% healthy. The same could also probably be said about Ryan Dempster, who failed to pitch effectively last night, surrendering 6 runs in 5 innings of work.
Still, these Cubs are a scrappy bunch -- after falling behind 6 to 0, the team managed to battle back and score 3 runs in the 5th and 3 more in the 6th, thanks to the plentiful offensive efforts of the 1-5 hitters in the lineup, especially Aramis "3-Run-Bomb" Ramirez. But that was when the Cubs turned to their bullpen and SHIZ EXPLODED!!
Before last night, the pen had been on a streak of consistency and efficiency. Then, Angel Guzman stepped in and coughed up the lead on a homer to Goeff Blum, before Jeff Stevens and Aaron Heilman allowed the Astros to put it out of reach in the 8th. Perhaps they should develop a (BL) statistic, short for "blame," of which Heilman would surely lead the league as he allowed 2 inherited runs to score, adding a third run credited to him as the proverbial cherry on top.
Speaking of Cub relievers and inherited runners, here are some stats I pulled from Baseball Reference (as inspired by ChuckD of Desipio fame mentioning it in a thread over there)...
IR=Inherited Runners, IS=Inherited Runners Scored, IS%=Inherited Runners Scored Percentage
Jose Ascanio - IR 2, IS 2, IS% 100%
Jeff Samardzija - IR 8, IS 5, IS% 63%
Aaron Heilman - IR 30, IS 14, IS% 47%
Dave Patton - IR 8, IS 3, IS% 38%
League Average - 32%
Carlos Marmol - IR 18, IS 4, IS% 22%
Kevin Gregg - IR 16, IS 3, IS% 19%
Angel Guzman - IR 16, IS 2, IS% 13%
Sean Marshall - IR 30, IS 3, IS% 10%
It's interesting just how poor Heilman and Samardzija have done compared to the league average. It's even more interesting how the Cubs bullpen has been considered erratic-at-best this year and yet four of the team's relievers fall below the league average. Perhaps it would be fair to suggest that the bulk of the team's late-inning problems rest squarely on the shoulders of Heilman at this point? Also: maybe Lou should entertain never using him in situations with runners on ever again? Just a thought.
So, the streak is over, the Cubs are back in second place, and on a night in which they were outhit by 12, they were also outscored by 6. What, did you expect them to win every game?