Series Preview: Cubs vs. Astros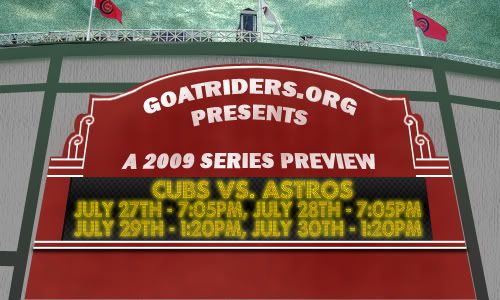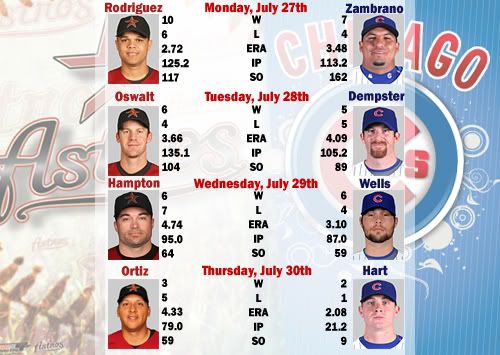 Overview
While I enjoyed watching the Cubs crush the hopes and dreams of children from Cincinnati this weekend, there's no time to celebrate with the AssTrolls coming to town. Just like the Cubs practically ended the 2009 season for the Reds, they could do the same to Houston when this four game series is over. To make matters even better, the Cardinals start a four game set at home against the Dodgers. I enjoy this very much.
That being said, the Cubs could be sitting pretty by the end of the week.
Of course I'm getting a bit far ahead of myself and too optimistic/cocky for Karma's liking, so I'm just going to stop thinking about the potential awesomeness that lies ahead and prepare for the worst.
The Astros come into Chicago after winning only one game against the Mets in Houston. It takes a special kind of suck to let the Mets score 8+ runs in two games. Hopefully they will bring more of that to Wrigley.
The Matchups
Monday, July 27th – Wandy Rodriguez vs. Carlos Zambrano
Ah yes, the Wand-Rod. How I loath thee. I don't know what it is about this guy, but he seems to always tear up the Cubs. He's faced the Cubs twice already this season and has made them look like fools. He threw 6 innings and only gave up 4 hits and 1 earned run on April 7. Then on June 10 he pitched 7 innings giving up 1 earned run on five hits. Both of those games were played in Houston however. Welcome to the Thunderdome Wandy.
Big Z gave up 5 runs on 10 hits to the Phillies in his last outing, but he got the win so all was forgiven. Like Rodriguez, Zambrano has pitched against his opponent twice already this season. He's pitched well in those games too.
Something's got to give. Two men enter, one man leaves.
Tuesday, July 28th – Roy Oswalt vs. Ryan Demster
Dirty Demp returns from the DL, but who knows how he is going to pitch. His ERA is virtually the same at home (4.12) as it is on the road (4.00), yet Dempster is 4-1 at Wrigley compared to 1-4 everywhere else. Everything I've been reading says Dempster has been keeping his arm in shape, so maybe this will be less of a bloodbath than I'm anticipating. Control could be an issue.
Dempster's job doesn't get any easier having to go up against Roy Oswalt. Although he didn't start off particularly strong this season, Oswalt has been pitching better as of late. The main issue for Oswalt seems to be his control. He already has 33 walks this season and is on pace to go well over his average of 51.
Wednesday, July 29th – Mike Hampton vs. Randy Wells
I look at Mike Hampton and I see a gas can covered in gun power inside a fireworks shop surrounded by a moat of nitroglycerin. Although he's only given up nine homeruns this season, Hampton is one of the guys that makes me feel like I can actually enjoy watching the Cubs offense. He's give up at least 7 hits in his last three starts.
Randy Wells continues to pitch decently enough where I might consider buying his jersey…or at least a jersey shirt. A lot of people have been talking about how the Cubs are missing Jason Marquis, but Wells is a more than suitable replacement as the "fifth" starter. Marquis might be hot now, but you got to love Wells' potential. He's 6-0 when the Cubs score at least four runs.
Thursday, July 30th – Russ Ortiz vs. Kevin Hart
With Lilly on the DL, Hart gets to stick around a little bit longer. I've been impressed so far, but other teams are unfamiliar with him, which has probably helped a little bit. He was finally able to cut down on the walks in his last start against the Reds. That can only lead to good things. Nothing makes me want to punch something defenseless in the face more than walks.
Russ Ortiz is a silly looking man. I'm not sure if it's his cliffhanger-like nose or his oddly shaped body, but I can't help but laugh when I see him. He actually pitches better against lefties than righties (Ortiz is right-handed), so it's a good thing the big bats on the Cubs all hit from the right.
Conclusion
The Cubs are in a great position to move up in the standings and put some distance between themselves and the Astros/Cardinals (Not the Brewers though, because they get four games against the Natties). My hatred for Houston has been well documented on this site, so anything less than a sweep will be disappointing. However the realist inside of me says the Cubs will most likely go 2-2 or 3-1. The only game I expect the Cubs to lose is when Oswalt takes the mound.
Still, lots of reasons to be optimistic going into this series. Just don't get too comfortable. Karma can be a biatch.
Go Cubs.
Tip for Purchasing Tickets Online
Most online brokers and marketplaces in the secondary market charge a service fee during checkout regardless of what you are purchasing, such as Chicago Cubs tickets or anything else. Typically you can walk through the first few steps of checkout to find out if there will be any additional charges. From your friends at Neco.com, the home of transparent pricing.