Series Preview: Cubs at Philadelphia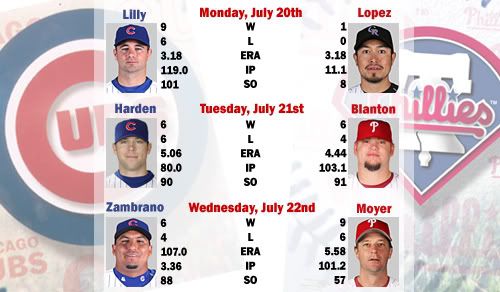 Overview
Domo arigato Nationals.
The Cubs really could not have asked for a better way to start the back half of the season. I mean, think about it. A four-game sweep of a terrible team on the road, the starting pitching looked decent for the most part, the Savebot was able to get five crucial outs in a row, Alfonso Soriano might be getting ready to go on a tear, Aramis Ramirez flashed some power. All is well.
Until tonight of course.
The Cubs roll into Philadelphia to take on the Phillies who are the winners of eight straight…ruh roh Rhaggy.
Say what you will about the Nationals series, but these next three games are far more important in terms of determining what kind of team the Cubs will be in the second half of the season.
Unfortunately that match-ups are not in their favor…
The Match-ups
Monday, July 20th - Ted Lilly vs. Rodrigo Lopez
What makes me most uncomfortable about this game is not who the Cubs are facing, but rather who they are sending to the mound. An All-Star pitcher you say? Maybe half an All-star.
Although Lilly is nearly unbeatable at Wrigley Field (6-1, 1.86 ERA) he remains very mundane on the road (3-5, 4.66 ERA). The fact that he missed a start due to an injury no reason to get excited either.
The saving grace of this game is Lopez, who is the weakest link of all the Phillies starting pitchers. Although Lopez will most likely be replaced by Pedro Martinez in a few weeks, he could be dangerous since he is pitching for…you know…his job.
Tuesday, July 21st - Rich Harden vs. Joe Blanton
The good news: Rich Harden is 4-1 on the road with a 2.17 ERA. The bad news: Lefties are doing some damage to Harden. And guess who bats lefty for the Phillies? That's right, Ryan Howard, Chase Utely, Raul Ibanez, and Jimmy Rollins. Great.
Blanton doesn't have a particularly impressive record (6-4) or ERA (4.44) this season, but he leads the Phillies in quality starts (10). Blanton doesn't appear to pitch better on the road or at home nor is he significantly more dominant against lefties or righties. He also doesn't appear to possess a neck -- my theory is that he ate it. He does, however, give up a lot of home runs (19), especially to right-handed hitters (11). Maybe A-Ram, D-Lee, and/or Soriano could have a big night.
Wednesday, July 22nd - Carlos Zambrano vs. Jamie Moyer
Pitchers like Jamie Moyer terrify me. I wake up in a cold sweat thinking about a control pitcher with Moyer's ability facing the Cubs. It's been well documented that Moyer doesn't have the best stuff anymore (mid-80s fastball), but the guy feasts on anxious hitters. That's why he has like 200 wins against the Marlins. He makes those kids look stupid. This could be disastrous for the Cubs if they start to get hack-happy.
It seems like there were two runners on base every inning during Zambrano's last start against the Nationals. Still he worked his way out of it and has somehow posted a 2.25 ERA in his last four starts. Regardless, Big Z is going to need to pitch more than 5 innings in this game. Lord knows the bullpen might be a little gassed after Harden pitched the day before.
This game could easily turn into a classic pitchers duel.
Conclusion
As of this afternoon, coolstandings.com has the Cubs at a 32.7 percent chance of making the playoffs. We will certainly know a lot more about that number three days from now, but I'm guessing it's going to drop. I hope I'm wrong.
Go Cubs.
Tip for Purchasing Tickets Online
Most online brokers and marketplaces in the secondary market charge a service fee during checkout regardless of what you are purchasing, such as Chicago Blackhawks tickets or anything else. Typically you can walk through the first few steps of checkout to find out if there will be any additional charges.. Brought to you from your friends at Neco.com, the home of transparent pricing.