Game & Series Recap: Cubs 11, Nationals 3 (4-0) - Sweeeeeeeeee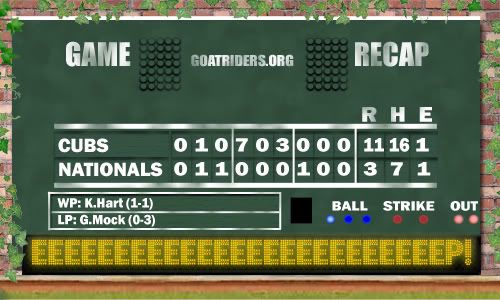 (with even more great pics complimentary of Yarbage)
Four games into the second half of the season and the Cubs stand alone in second place, tied for first in the loss column, despite 3.5 long months of mediocrity. Either the NL Central is terrible or the Cubs are just that goo-naw, the NL Central just plain blows. But at least they aren't the Nationals.
So far this year, Washington has managed a .286 winning percentage -- that makes them rivals with the Detroit Tigers from a few years back as being The Single Worst Baseball Team In the History of the Modern Era. Therefore you are right, Caustic Cub Fans. Sweeping the Nats doesn't mean much. But losing to them even once might have said a lot about the Cubs.
Instead, yesterday at least we found a Cubs team that could not be stopped by Nationals pitchers. The offense combined for 16 hits and 5 walks, resulting in 11 runs. Among the heavy hitters were Kosuke Fukudome, who has at least temporarily shaken off his mid-season druthers so far this second half. Yesterday he went 2 for 4 with 2 walks, hitting his 19th double, driving in 1 and scoring 1 more.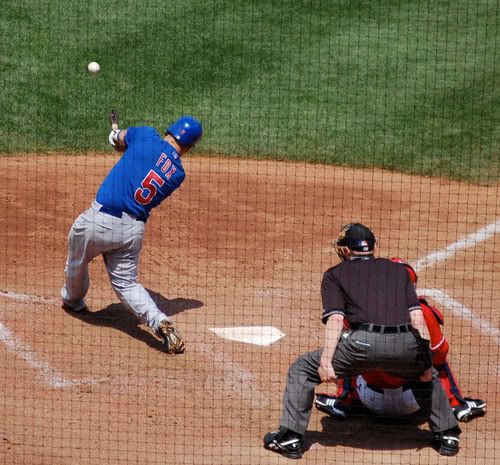 Also impressive were hitters without gloves Jake Fox and Micah Hoffpauir, who both went 3 for 5. Part of Fox's 3 for 5 day included a 3-run homer and he finished the day with 4 RBI.


On top of that, Alfonso Soriano went 2 for 3 with a walk, a double, and a homer -- his second straight day with a long ball -- and Mike Fontenot went 3 for 5 with a double as well. All told, 8 Cubs collected at least 1 hit and 7 Cubs drove in at least 1 run.


On the pitching front, Kevin Hart collected his first big league win of the season, pitching 5 innings, surrendering 5 hits, and walking 5 Nationals. Still, he only surrendered 2 runs, so ugly win or not I'm sure he's happy.
Since Hart was unable to last past 5, though, Lou tried to rest his over-taxed bullpen by allowing the seldom-used Jeff Samardzija to pitch 3 innings, with Jeff Stevens finishing the game in the 9th. In their 4 innings of relief, the two Jeffs combined to allow just 2 hits and 1 walk.
The Cubs will be in Philly tomorrow, taking on the best team in the NL East. For a lot of Cub fans this is the true gauge -- will the Cubs get hammered, or will they be the hammer? Not to be a parade-rainer-onner, but sweep or be swept it won't mean much as far as October is concerned except in the standings. In other words, it won't decide the season and it will not serve as an accurrate predictor of how the Cubs would do against the Phillies in the playoffs. These games don't have implications of future failure or success, except that the Cubs won't get a shot at success if they keep getting their asses kicked by teams like the Phillies. But at least they have "sweeping the worst team in baseball" down pat. That's one less thing to worry about.
Current Record: 47-43
Position in the NL Central: 2nd place, 2 games out
Best Possible Record: 119-43
Worst Possible Record: 47-115
Record needed to win 110: 53-9
On Pace For: 85-77