Game Recap: Cubs 3, Nationals 1 -- Don't Get Excited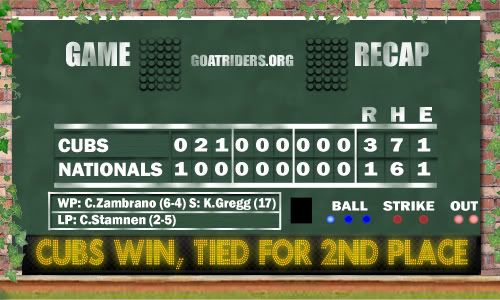 If you have been privy to the cyber-stalking which has been on-going in the ShoutBox, then you probably know that not everybody is happy the Cubs are beating the Nationals, and certainly not everybody thinks it means anything.
Obviously, my friends, the Cubs need to beat better teams than the worst in baseball. But until they adopt the "wins only count for half against the Nationals" policy that is currently sitting on Bud Selig's desk, then I think we'll agree that the Cubs are doing exactly what they should, and exactly what they need to do if they want to bridge the 3 game gap between them and the Cardinals. So no, neither sweeping -- nor merely beating -- the Nationals would constitute as a reason to start printing playoff tickets. But failing to do so very well might have been, and whether your opponent is Washington or Los Angeles, a road series victory is both nothing to complain about and something positive to carry into the next set of games.
Therefore I am pretty damned happy that Carlos got a win last night, beating Washington 3-1 with 5 innings of erratic pitching (he surrendered as many walks as hits - 4) and with his bat as the Big Moose hit the 2-run double that would be the difference in this game.
Perhaps more important was the homerun by Aramis Ramirez, who may or may not be hitting a lot of those considering that his shoulder is not 100%. Other small positives -- a two-hit game from Fukudome, along with signs of production from Fontenot and Bradley.
After Carlos left the Cubs bullpen stepped in and pitched 4 innings of 2 hit, 0 walk baseball.
The Cubs play for a series win today; fingers crossed that Ted Lilly will make his scheduled start as apparently his foot has been bothering him.