Series Preview: Cubs at Washington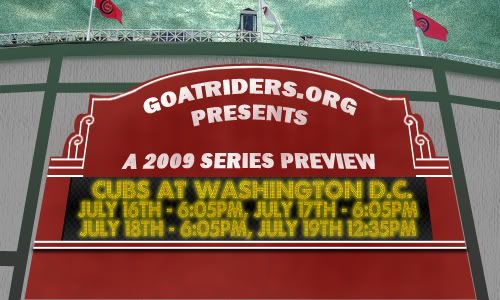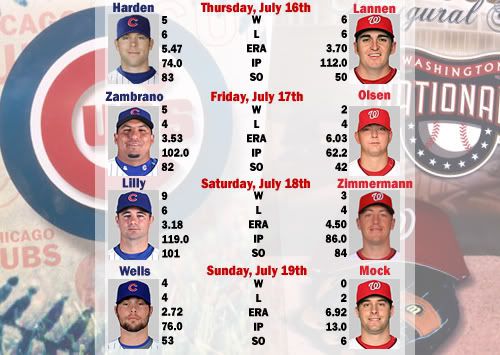 Overview
At last, a four game series the Cubs should sweep!
The Cubs kick off the second half in our nation's capital, where they take on the modern-day lovable losing Washington Nationals. (It's hard not to love this team, on pace for well over 100 losses, who can't even spell their names right on their jerseys!)
Anyway, have you ever noticed how sometimes a player's first half will be like night and day compared with his second half? I've always thought it was a bit mysterious that it happens -- but it does happen. I can think of one or five Cub players who would love to have that happen to them this season.
In the meantime, Goat Rider Yarbage will be at the games, camera in hand. He's promised to take pictures and add to the Game Recaps the kinds of details that you can't get from watching it on TV or -- lord forbid -- following along via internet feed and/or radio.
The Zambran-0-Meter
you may have noticed it hasn't been updated in a while. I'm actually re-working it completely. It will soon be known as the Zambran-0-Meter of Diminished Expectations and will only go to 90. Stay tuned for that.
Match-Ups
Thursday, July 16th - Rich Harden vs. John Lannan
Rich Harden. Oh, how the heart weeps. Last year you were an ace, an unstoppable force on the mound whose tendons and sinew muscles could not stand up to the force fo your unnaturally nasty stuff. Except this year you've ... well, you've kinda sucked ass. I'm not sure why you would be the first guy out of the gate, but if there's a team you'll dominate it will hopefully be the Nationals. P.S. -- be careful not to float too many meatballs to Dunn.
John Lannan, known in some circles as "creepy brows" appears to be your run-of-the-mill below-avearge pitcher with an unsual-for-his-talent ERA mixed with a typical-because-of-the-team-he-pitches-for mediocre record of 6-6. This is his second full season in the bigs -- and last year he posted a 3.91 ERA with a 9-15 record and only 117 strikeouts to 72 walks in 182.0 innings of work.
Friday, July 17th - Carlos Zambrano vs. Scott Olsen
Carlos has it rough. "An ace with only 5 wins?" people cry. Actually the lack of wins isn't really upsetting -- I mean, not sure if you noticed, but the Cubs haven't exactly been breaking records this year. The only thing that concerns is his continued battle with good mechanics. He has the tendency to drop his arm slot, lose velocity, compensate by pitching harder (without actually using his legs), resulting in tendonitis and injuries. I'm not sure if the Big Moose just doesn't listen to Larry or if Larry just doesn't know how to keep Zambrano consistent, but either way Carlos will be better-served if he can figure it out fast.
Scott Olsen is another National lefty, this one with a mid 6 ERA new to Washington this season via the Marlins. He's probably your run-of-the-mill #5 starter, posting a career ERA of 4.77 and a solitary winning season back in 2006.
Saturday, July 18th - Theodore Roosevelt Lilly vs. Jordan Zimmermann
Lilly, 9-6, is at the peak of his tradability. Then again the Cubs definitely won't be dealing him so long as they are within shooting distance of the division -- whether we think they'll actually achieve the Central crown or not.
Zimmermann has an amusingly-spelled name. He's also managed all of 3 wins in 15 starts this season, his rookie year, meaning that he and Randy Wells could probably share with each other heart-breaking stories of blown leads and no run-support. Regardless, he's actually half-decent -- his ERA is 4.50, but he's got 84 strikeouts and only 28 walks in his 15 starts. If he can cut the hits down and limit the homeruns, the Nationals might have their next ace.
Sunday, July 19th - Randy Wells vs. Garrett Mock
This is actually guess work on my part. ESPN does not have Sunday's starter posted on their site. But based on how long it will have been between starts and the other guy in the rotation (Kevin Hart), Wells appears the likeliest candidate to pitch. I'm still amused by how long it took him to win his first game, and how he then won games 1-4 in rapid succession.
Garrett Mock is the listed starter for Washington, although he hasn't started a game all year long. He's got an ERA of 6.92, he's walked 8 to 6 strikeouts, and if he indeed is the Sunday starter then I like the Cubs' chances.
Conclusions
As far as opening series go, the Cubs probably couldn't have asked for better opponents than the Nationals. Washington is presently on pace to lose 114 games, putting them in a legendary category of suck. Even the Cubs, who have been losing up a storm this year, should do well.
Tip for Purchasing Tickets Online
Most
online brokers and marketplaces in the secondary market charge a
service fee during checkout regardless of what you are purchasing, such
as Chicago Cubs tickets
or anything else. Typically you can walk through the first few steps of
checkout to find out if there will be any additional charges.. From
your friends at Neco.com, the home of transparent pricing.