Game Recap: Cubs 6, Nationals 2 -- As They Should

All game photos courtesey of Yarbage
This was a "formula" win for the Cubs.
Good starting pitching, plus timely hitting, plus a little power, plus a shutdown bullpen, wins games. Most of the time, you only need a few of those things to win the game. Tonight, the Cubs had it all.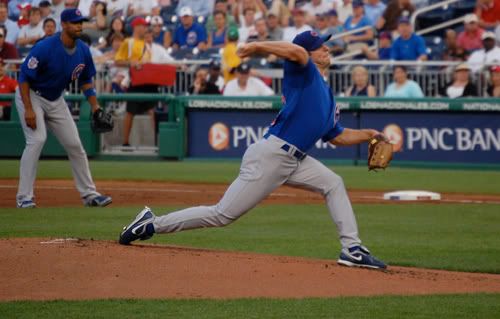 Rich Harden was in top shape this evening, reminding us all of exactly the type of talent we acquired last year. Remember all those double digit strikeout games from last season? This one wasn't quite that good (only seven Ks), but pair that with no walks and only three hits, and you've got yourself a great start.


On top of that, each of the mainstay relievers (Guzman, Marmol, Gregg) came in to pitch the 7th, 8th, and 9th respectively, and took care of business. Particularly exciting was a Marmol pickoff play in the 8th. Am I the only one who gets nervous when a reliever with erratic control tosses the ball haphhazardly to the first baseman?


On the hitting side, a couple of two-out RBI (one each from Riot and ReJo) helped get the Cubs in front. After that, a scrappy ninth put the game away.
I know he only had one at-bat tonight, but I'm gonna give my Gold Star on Offense to Sam Fuld, for finding a way to cross home plate yet again. Do you realize this kid has taken over 95% of the pitches thrown to him outside of the zone? It's unbelievable!
Great game, much needed win. Go Cubs!