Game & Series Recap: Cardinals 4, Cubs 2 - Treading Water (2 to 2)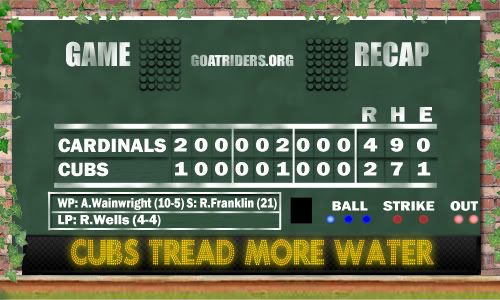 Back to the now-infamous Series Preview. I wrote:
...if Lohse had to exit even earlier on Sunday, and if Wainwright stayed in too long on Sunday night and gave up bundles of runs in the 7th or 8th?
Phase Three: FAIL.
It's hard to rough up a pitcher who only needs 90-or-so pitches to get into the 8th. Maybe the Cubs were anxious to start their mid-season vacations, or perhaps the team is just utterly hapless against top-notch pitching, but no matter how you look at it the Cardinals were in control all night long.
And so, we are left with a Cubs team in the same spot they were in before the 4-game series: at .500, 3.5 games out of first place in a division nobody wants to win. A small consolation Cub fans -- the Cardinals and their fans came to Chicago to bury the Cubs and failed.
Other small consolations from last night:
-Signs of life from Milton Bradley: Don't Wake went 2 for 4 with a double and an RBI
-More leadoff success from the reincarnation of Doug Dascenzo: Sam Fuld went 2 for 3 with a walk
-One of the craziest managerial moves we've seen in a while. In the 9th, with the bases loaded, no outs, and a plethora of lefties coming up behind a righty, Lou took relief pitcher Sean Marshall off the mound and inserted him in left field. Aaron Heilman came in, got the out, and Marshall then returned to the mound to finish the ending. Even Tony "Crazy-Ass Moves" LaRussa was impressed.
On the other hand, Ryan Theriot made a ridiculous fielding error in that inning which led the Cubs into needing to encorporate that nutty strategy. But worst of all, Milton Bradley, Jeff Baker, and Micah Hoffpauir all took their bats in the 9th by striking out looking. Maybe Franklin's stuff is just that sick but Lou Piniella is not known to tolerate lightly the "struck out looking in the 9th" scenario.
So. An ultimately disappointing -- but not crushing -- series. I'm coming to expect more of the same in the second half. I'd say at this point that the Cubs don't look like the worst team in the league but they are clearly not the best. An 81-81 record might be just on track and I'll have to craft a Zambran-0-Meter of Diminished Expectations before the break ends.
Current Record: 43-43
Position in the NL Central: 4th place, 3.5 games out
Best Possible Record: 119-43
Worst Possible Record: 43-119
Record needed to win 110: 57-9
On Pace For: 81-81