Game Recap: Cubs 7, Cardinals 3 - Everything Happens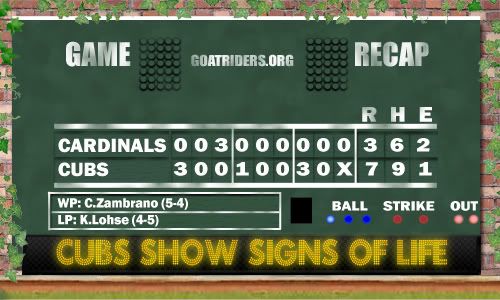 Back to that Friday-written Series Preview. I wrote:

if Lohse had to exit even earlier on Sunday, and if Wainwright stayed
in too long on Sunday night and gave up bundles of runs in the 7th or
8th?
Phase Two: Complete.
Granted, the Cubs didn't chase Lohse particularly early, but the Cardinals were forced to turn to three relievers to get through the final 4 innings of today's game. That puts them at having used 5 relievers in the past 2 days. Chances are they will recycle a few for tonight's game, but the Cubs only need to take Wainwright for rides early and often or exploit him in the late innings to pretty much accomplish everything we could've hoped for.
This afternoon's win came from the arm of Carlos Zambrano -- who had one rocky inning and was otherwise on his game -- and also from his bat, along with Micah Hoffpauir's. The Hoff gave the Cubs an early lead with a 3-run, 1st inning homer and Carlos put them ahead for good in the 4th with his solo shot. By the time the Cardinals' defense collapsed and the Cubs tacked on 3 more in the 7th it was already over.
So, points to the Cubs who kept Lee and Ramirez in reserve for tonight's game, and who are now on track to get back into the race for the division in epic fashion.
Everything happens. Maybe even a few Cubs surprises.