Game Recap: Cubs 5, Cardinals 2 -- and so it begins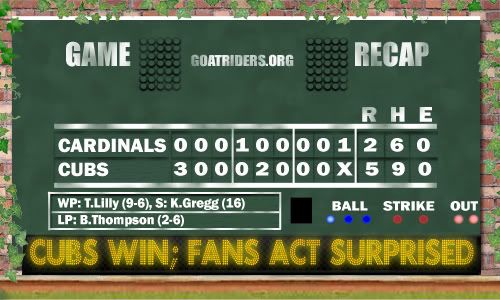 On Friday's Series Preview, I wrote the following:

Can you imagine what would happen if they chased Thompson in the 4th,
if Lohse had to exit even earlier on Sunday, and if Wainwright stayed
in too long on Sunday night and gave up bundles of runs in the 7th or
8th?
Phase One: Complete.
I'll say again that the Cardinals are idiots if they plan on running their less-reliable starter out there first tomorrow. They're already pretty much down two relievers as both Kinney and Hawksworth went more than 1 inning (although I'm sure we'll see at least one of them tomorrow).
Meanwhile, the Cubs offense pretty much matched yesterday's output -- 9 hits, 3 walks, but this time they scored 5 runs while their pitcher Ted Lilly went 8 strong innings for his 9th win.
Contributing to the offensive barrage was Aramis (1 for 4, 1 RBI), Alfonso "Can We Trade Him" Soriano, Milton "Don't Wake Daddy" Bradley, And Jeff "I DON'T KNOW WHO THIS GUY IS!!" Baker.
And the Cubs chose not to walk Pujols. I'm not sure why. Like Carlos Lee, he should never see a strike when facing the Cubs. I don't care if he's 60 and geriatric (and he's probably well on his way) if Grandpa Pujols walkered his way up to the plate, hefted a bat with his shaking hands, and saw a single strike I would be pissed. He's a Cub killer, amiright?
Tomorrow the Cubs play ... for the season.