Series Preview: Cardinals vs. Cubs - the battle for everything that's right and wrong in the world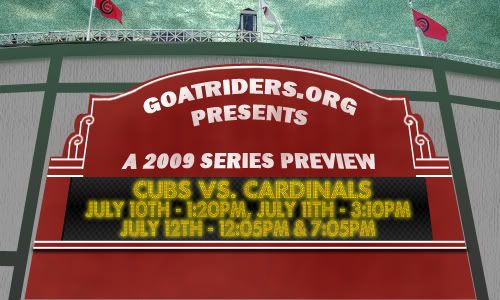 Overview

Okay, "the battle for everything that's right and wrong in the world" may be a bit of an exaggeration. But as we enter the final series before the All Star break, we have to come to terms with a few things.
First, clearly, this is a season in which the Everything that Could Go Wrong Effect is in play. Star sluggers get hurt, expensive players underperform, valuable role-players don't take to their new jobs, pitchers suffer hard luck losses, and everybody loses. I mean, that's what this is - a season of losses for the Cubs. Between losing games on the field they're losing players, to stupid injuries (Ryan Dempster), idiotic suspensions (Milton Bradley, Carlos Zambrano), and so-on.

In the meantime, off the field the Cubs are entangled in the longest, most embarassing team sale I've ever followed. Seriously, can they do nothing right? Tom Ricketts has been working on finalizing his bid for six months in a sale that has been ongoing for more than two years -- and right when you think the path is finally approaching the clearing, it turns out that some other jabrone might swoop in and buy the team. You know, just in case the other one doesn't take.
Consequently, the Cubs are stuck with a bunch of players who can't be traded -- they're too expensive or have no-trade clauses. And they can't upgrade without dumping salary because Jim Hendry bound his hands through throwing piles of money at Alfonso Soriano, Milton Bradley, and Kosuke Fukudome -- the most incompetent near-200 million dollar outfield in baseball this year. Even if the team gave up on the year and decided to trade off their parts they'd be hard to find takers for their biggest busts.
In other words, everything that could go wrong has gone wrong. And yet, the Cubs could theoretically be in first place by Sunday night if they can dominate the Cardinals at home.
Not that it would be easy. Far from it, on the contrary, I don't think there's an intelligent Cub fan out there who thinks the Cubs will sweep. But it's kind of amazing to think that in this, our season of woe, despite all the things that have gone wrong the Cubs are within striking distance of a playoff spot. I mean, let's look at this season objectively. Your big money pitcher suffers terrible luck before breaking his toe and going on the DL for a month. Your ace setup man can't find home plate with a compass and a magnifying glass. Your star slugging third baseman makes a dive for a ball but leaves his shoulder back over there somewhere, forcing your slumping second baseman to play his position for months. Your entire outfield dramatically underperforms, taking what should have been a strength and turning it into a gaping, inescapable hole in your lineup. It turns out that your catcher is a pot head and the stress of the world knowing may have contributed to his horrible start to the season. Not to mention your fireballing, strikeout machine pitcher is getting lit on a regular basis up like one of said catcher's doobies. Oh, and your rival team's first baseman is having a season that Babe Ruth would be jealous of.
You'd think, with all of that, that your team would be in an epic battle with the Pirates for the NL Central basement. So I say again, as I have said before, maybe this thing is ours to lose. Because if that much can go wrong and they're still in the hunt, then they just might not go away. And if we can agree that there is no such thing as luck (rather, a lot of chance and coincidence) then before it's over the pendulum will swing the other way. Just some food for thought.
Match-Ups
Friday, July 10th Rich Harden vs. Chris Carpenter
Two often-injured, ace-like pitchers squaring off. One will get hurt. The other will ... also get hurt. (Just maybe not today.) It has not been Harden's year. He's in the final season of his contract and rather than going the Ryan Dempster route and pitching his ass toward a big pay day he's taking the Matt Clement route and pitching his ass toward becoming a free agent bargain for somebody other than the Cubs.
Chris Carpenter, meanwhile, has pitched more this season than he's done in the past two years combined. If he's healthy, it will be tough for a rocky Cubs offense to overcome.
Saturday, July 11th Ted Lilly vs. Brad Thompson
Lilly has proven to be Hendry's best acquisition. He has been reliable, steady, consistent, psychotic -- everything you look for in a #2 or #3 pitcher. He is also the sole representative of the Cubs to the All Star Game this year -- anybody remember how last year's game was practically the AL vs. the Cubs? Ahh, those were the days.
Brad Thompson should be nicknamed the Turtle. Go back and look at his player pic -- tell me that guy's not a terrapene carolina. Either way he's got a face like his curveball -- people love to hit it. Thompson is one of the weak links of the Cardinals rotation. This is a must-win game of the series.

Sunday, July 12th Randy Wells vs.Kyle Lohse
Randy Wells is my favorite baseball story. After pitching 8 games before getting his first Major League win, he's gone out and won 4 straight. Still, it seems as if he hasn't really captured the imagination of Cub fans like Wood, Prior, and Zambrano did. Maybe we're just a little more hardened now? Or are we afraid that he is the 2000's version of Amaurey Telemaco? At this point, though, I can comfortably say that I welcome the trading of other, more expensive Cub starters because Wells has convinced me that he is a worthy option to start for the team not just this season but next season as well.
If Brad Thompson is the weak link of the Cardinals rotation, then Kyle Lohse is the link connected to the weak link. (Yeah, that was a crappy metaphor, sorry.) Lohse has had forearm problems, causing him to miss games. I'm thinking it might be a mistake that he's scheduled to start the first game of the double header. If the Cubs can take advantage of his rust -- he hasn't pitched in over a month -- or if he hurts himself again and St. Louis has to turn to their bullpen early, then it just might be a Sunday route for the Cubs as LaRussa may have to keep Adam Wainwright in the night game for too long.
Sunday, July 12th Carlos Zambrano vs. Adam Wainwright
Everybody's mad at Carlos. He's not pulling his weight, they say. He doesn't have the composition -- or the stats -- of an ace. I can't blame people for feeling that way, but blaming Carlos for being 4-4 is similar to blaming Wells for starting 0-3. Zambrano has been pretty steady, he just hasn't gotten the run support.
Adam Wainwright is on pace to win 17 games. Therefore I hate him. That is all.
Conclusions
Who the hell knows? Maybe -- just maybe -- Rich Harden will revert to form, giving the Cubs the ability to win a 2-1 ballgame. Or maybe the Cubs will light Carpenter up and it won't matter. Maybe Brad Thompson will fail to elevate himself and get hammered by the Cubs. Can you imagine what would happen if they chased Thompson in the 4th, if Lohse had to exit even earlier on Sunday, and if Wainwright stayed in too long on Sunday night and gave up bundles of runs in the 7th or 8th?
I know it doesn't necessarily look it -- and it sure as hell doesn't feel it -- but this actually is a very good opportunity for a very bad-luck team. I'm not predicting sweep, but much as when the Brewers were in town I actually feel as if this is the Cubs' series to lose. And I ask you, for one brief moment, to consider what it would be like if they pulled off a big win. If the Cubs swept the Cardinals going into the break, wouldn't the second half look that much better?

Tip for Purchasing Tickets Online
Most online brokers and marketplaces in the secondary market charge a service fee during checkout regardless of what you are purchasing, such as Chicago Cubs tickets or anything else. Typically you can walk through the first few steps of checkout to find out if there will be any additional charges.. From your friends at Neco.com, the home of transparent pricing.