Game Recap: Cardinals 8, Cubs 3 - what'd you expect?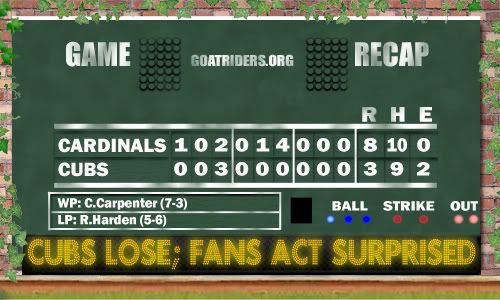 In yesterday's Series Preview, I wrote the following:

I don't think there's an intelligent Cub fan out there who thinks the Cubs will sweep.
And yet here we are, acting as if the defeat of the Cubs at the hands of the best Cardinals pitcher -- who faced off against the least reliable Cubs pitcher -- is somehow a betrayal or a surprise. Sorry, folks, but it definitely wasn't.
Instead I'll just note the following:
Batting stats for the month of July
Alfonso Soriano - 6 for 24 (.250 AVG), 2 doubles, 0 homers, .613 OPS.
Milton Bradley - 4 for 21 (.191 AVG) 1 homer, 9 BB, .767 OPS. (And to think that there were blogs out there which criticized our F/F+ rating of Bradley this year)
Geovany Soto - 4 for 18 (.222 AVG)
It's kind of hard to contest the nay-sayings of Rob when three regulars are combining to bat .222 for the month. Then again, the Cubs have had 3 (or more) out of 8 regulars doing that every single month this season, hence the preposterously bad record.
Yesterday, the Cubs batted .250 as a team -- seems less impressive when 2 of their 9 hits came from Rich Harden -- and would have been shut out were it not for Derrek Lee's 3 run homerun.
Still, when Harden left it was a 1-run game. Then Aaron Heilman came in and crapped his pants in front of 40,000 people, putting the game out of reach.
However I'll bring it back to the first thing I said. Anybody who thought the Cubs would sweep is crazy. But with Carpenter gone, it becomes a much closer series and I truly believe anything can happen.
By the way, a note to Lou Piniella: intentionally walk Pujols. Do it every single time. Or blow in a drug test, either way.