Series Preview: Cubs vs. Braves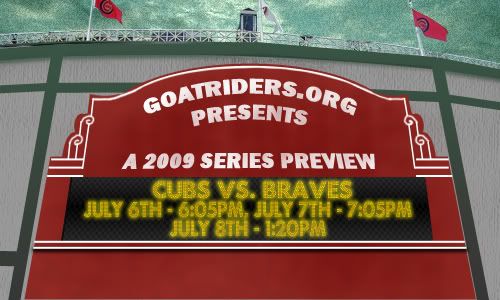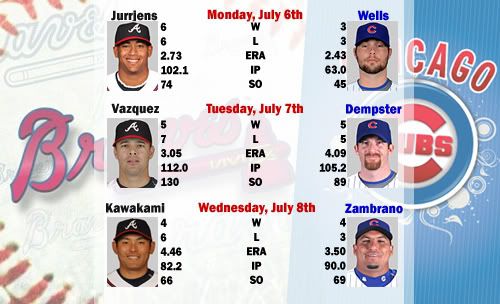 Before I get started with this preview, I'd like to make a comment on Alfonso Soriano.
As I write this, the Cubs have yet to make any roster moves in the Messiah-like return of Aramis Ramirez and his two disciples White Slice and Angel Guzman, but I'm hoping they realize it's time for Soriano to take a seat on the DL train and make room for someone who will have a positive impact on this team.
I don't care if they make up an injury or if Soriano ends up coming clean that he has been playing with some sort of boo-boo this whole time: he needs to go. NOW.
When D-Lee was captaining the Crapboat and everyone wanted him benched in favor of the Hoff, I refused to turn my back on Derrek. Sure he was statistically struggling, but I thought I still saw some of that old skill there. In the curious case of Alfonso Soriano, his skill is all but gone.
When I wrote the player preview for the Fonz, the comment section quickly turned into a discussion of what kind of hitter Soriano was. It seemed that most people agreed he was a fastball hitter who had success pulling the ball to left. He had made a career off of hitting fastballs. But now that is all gone. Seemingly every at-bat that doesn't end in a strikeout concludes in some sort of soft pop-up to right field. He doesn't have the bat speed anymore. He doesn't have what made him a big-time player.
Now the question becomes can Soriano get it back? I'd like to think the answer is yes, but not while Lou keeps trotting his rotten corpse out onto the field everyday. Soriano has responded well to spending time on the DL the past few season. He usually comes back strong and tends to put up huge power numbers (going from memory here but I think I'm right).
The logical answer is to put him on the DL. It doesn't matter if it's a real injury or not. The guy needs time off and we need time off from him.
Overview
Alright, moving onto the series preview.
The Cubs are coming off of a huge series with the Brewers where they won three of four. Just like that, hope has been restored and the Cubs are looking like they are getting ready to close out the first half of the season on a positive note. Sha-Zam.
My concern for this upcoming series is not who the Cubs are playing, but who they're playing next.
Don't get me wrong, the Braves are no slouches – although they did just lose two of three from the Nationals. They're 39-42 and only four games out in the NL East, so they certainly have something to play for. But guess what's after the Braves? That's right, a four-game home series with the current NLC leading Redbirds.
The Cubs are probably riding pretty high right now, but this series smells like a trap to me if the Cubs don't focus on the team in front of them.
The Matchups
Monday, July 6th – Jair Jurrjens vs. Randy Wells
Two men enter, one man leaves. Both Jurrjens and Wells have been pitching solidly this season (despite the fact that they both have .500 records) and tonight should be a lot of fun to watch.
Jurrjens nearly threw a no-hitter in his last outing and has been shutting down right-handed hitters this season. Lefties are hitting .296 against him though, so the Cubs are going to need something out of Fukudome, Fontenot and Bradley tonight…probably not a good thing.
What can I say about Wells? He has easily been the surprise of the season and continues to impress. Yeah he's the "fifth starter," but aside from Lilly pitching at Wrigley, there is no other pitcher on staff that I have more confidence in than Wells.
Tuesday, July 7th – Javier Vazquez vs. Ryan Dempster
I look at Vazquez's 5-7 record and say to myself, "Typical sucktacular Javy." But then I see that he has a 3.05 ERA and is tied for second in the Majors with 130 strikeouts and I say, "OK, maybe not that sucktacular, but he played for the White Sox so he still sucks." Seriously though, Javy has been putting together a respectable season despite no run support. He should be another tough matchup for the Cubs. How do I know this? Last time he faced the Cubs he threw 6 2/3 innings of scoreless baseball, which also happens to be the last time he won a game.
Dempster got the win against the Brewers, but D-Lee was really the guy who won that game with his 7 RBI. I like that Demp struck out nine in that game, but he gave up eight hits (two of which were homers) in 6 2/3 innings. I'm still worried about this guy.
Wednesday, July 8th – Kenshin Kawakami vs. Carlos Zambrano
I don't know much about Kawakami aside from the fact that he is a 34-year-old rookie. I'm sure there is a good story in there somewhere, but I have to think he is an old rookie for a reason (which is to say that he sucks). It seems that Kawakami has had trouble with his command recently, so taking lots of pitches and being patient should lead to success for the Cubs.
Zambrano looked solid (although not spectacular) in his last start against the Brewers. Some run support from anyone other than himself would have been nice, so of course he didn't get the win despite deserving one. Who knows what Z is going to do next, but I like this matchup for him.
Conclusion
As I said in the overview, this series is all about concentration. The Cardinals are coming in for a huge series at the end of the week, but that won't mean dick if the Cubs crap the bed and get swept.
Rob and others have said it before: the Cubs has not looked like a championship-caliber team this season and have given us no reason to suspect that they can play like one. Taking care of a clearly inferior team at home would help a lot to changing that way of thinking though.
I think it's realistic to think the Cubs will win two of three with one of the losses coming in the first two games. But I can't say I'd be surprised if the Cubs only win one in this series.
Go Cubs.

Tip for Purchasing Tickets Online
Most online brokers and marketplaces in the secondary market charge a service fee during checkout regardless of what you are purchasing, such as Chicago Cubs tickets or anything else. Typically you can walk through the first few steps of checkout to find out if there will be any additional charges.. From your friends at Neco.com, the home of transparent pricing.