Series Preview: Cubs vs. Brewers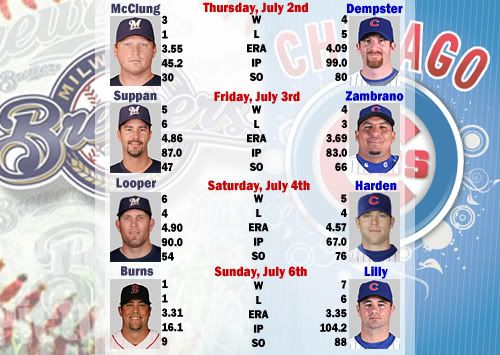 Overview
Let's see, how do I put this modestly? Hmmm. Ah screw it.
THIS IS THE MOST IMPORTANT SERIES OF OUR ENTIRE LIVES.
Well, not really. But I it's kind of important or something. Think of it this way: If the Cubs sweep this 4-game series with the Brewers, then they could be in first place. However if they are swept, then they could be in last. Thanks mediocre NL Central.
Anyway, the Brewers come in 5-5 over their last 10 games with their most recent game being a 1-0 loss to the Mets at home. Milwaukee was 5-4 at Wrigley last season and this will be their first trip to the Cathedral in '09.
As for the Cubs, they're coming off a hellish road trip (3-7) that has had players and fans alike tearing each other apart. Let me just say thank God for the Pirates. Taking two of three from Shatsburgh was probably more important for the confidence of this team than we realize. The Cubs should be carrying some of that momentum into the series (the important word here is "should").
The Matchups
Thursday, July 2nd - Seth McClung vs. Ryan Dempster
McClung (Milwaukee's more ginger and right-handed version of Sean Marshall) made his first start of the season against the Giants at home and was knocked around quite a bit. Being used mostly as a relief pitcher this season, I'd guess it will take a him a few more starts to stretch out the arm. So I'd expect him to be out by the fifth inning. Getting to McClung early and working high pitch counts should be the offense's goal.
Dempster seems to pitch better at Wrigley this season than on the road, so he's got that going for him. Hopefully the comforts of home will help Demp get a handle on his control because this dude needs to stop walking people. Unfortunately the Brewers are 2nd in the NL in walks. Fear the walk people.
Friday, July 3rd - Jeff Suppan vs. Carlos Zambrano
Guess what Phil Rogers? Carlos Zambrano is still on the Chicago Cubs. Yet amazingly you still have a job. It's a crazy world we live in.
So what if Big Z is a little loco. At least someone on this team is showing some passion. I don't expect things to change Friday and I'm thinking Scarlos has one of his better outings of the season.
As for Suppan, what can I say? The guy is the definition of "meh"-ish. The elements are ripe for a beat down.

Saturday, July 4th - Braden Looper vs. Rich Harden
Another Cardinals reject and another saucy matchup for the Cubs. Although Looper held the Cubs to only one run in five innings earlier this season, I like it when this lineup faces familiar foes.
Welcome back Rich Harden. Sure your gem was against the Pirates – whom my 72-year-old grandmother could probably throw a scoreless inning against based on the way they played this past series – but I tip my hat to you sir. Maybe this is the start of a dominating run for Rich…or maybe he'll go to Wrigley and stink it up like he has all season (2-3 with a 6.31 ERA at home).
Sunday, July 5th – Mike Burns vs. Ted Lilly
Me likey Ted Lilly at Wrigley. Especially his 1.85 ERA while pitching at the Friendly Confines this season. I can't remember the last time I saw a pitcher on the Cubs roster who was so consistently dominant at Wrigley and so consistently subpar on the road. Then again, I also drink a lot.
I really don't know much about Mike Burns and I'm just trying to make it through this paragraph without referencing a "Simpsons" joke. What I can tell you is that this will be his first start on the road. Pretty tough considering it is at Wrigley during a primetime broadcast. I wish him nothing but back luck
Conclusion
If this series were being played in Milwaukee, I would be deeply worried. But it's not, so tough nards for the Brewers. Not facing Yovani Gallardo means the Cubs have the starting pitching advantage across the board, which tells me it is imperative for the offense to score early. The Brewers' bullpen has been surprisingly solid this season (especially Trevor Hoffman), so don't expect many come-from-behind wins if the Cubs are trailing late.
I'm not going to predict a sweep either way, but the Cubs should win 3 of 4 if the starting pitching continues to give quality starts.
Go Cubs.
Tip for Purchasing Tickets Online
Most online brokers and marketplaces in the secondary market charge a service fee during checkout regardless of what you are purchasing, such as Chicago Cubs tickets or anything else. Typically you can walk through the first few steps of checkout to find out if there will be any additional charges.. From your friends at Neco.com, the home of transparent pricing.