Game Recap: Cubs 9, Brewers 5, Derrek Lee Triumphant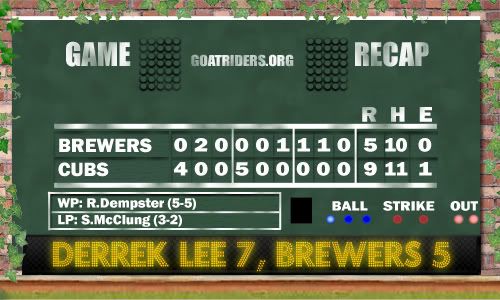 So. We will probably debate certain aspects of baseball philosophy forever. For example, while drowning in a sea of pessemism as of late, I have recently thrown out a lifeline by way of poining out how the Cubs are in an excellent position to give Brewer and Cardinal fans anxiety disorders. That is something Rob will disagree with staunchly even though doing so ignores that, were the Cubs in first place right now and had they just suffered a 9 to 5 loss to the fourth place Brewers, he'd be crapping his pants just as badly.
But while certain things are and always will be debated, I'm pretty sure that by this point we can all come together and agree that Derrek Lee was not in fact washed up after the 2008 season. The declining power? Probably an indication of nursing injuries more than anything else. The double plays? Just bad luck, fluke, and coincidence wrapped up in a nice bow. The Hoffsplooge love? Perhaps a little premature.
Last night for the second time this season Derrek had a two homerun game. The difference from the first, though, was that he did it with lots of runners on base. Derrek started things off in the first with a three-run homer -- amazing the things that can happen if your leadoff hitter manages to actually get on base -- and he was followed up two batters later by Jake Fox's 3rd. Then, after the Brewers came within 2 runs of the lead, Geovany Soto smoked his 8th homerun of the year* Derrek stepped up again -- this time with the bases loaded -- and hit a Grand Slam. It would be the last time the Cubs would score, but it would also be the last time they needed to -- even though the Brewers nicked back runs in the 6th through 8th innings, it was never close.
(*"Smoked his 8th homerun of the year?" Heh. Puns.)
Lee is now on pace to hit 33 homeruns, to drive in 112 RBI, and to have the second-highest OPS of his career with the Cubs. After only playing 65 games, he is 4 homeruns shy of last year's total. At GROTA we believe in flexibility in both women and baseball, and so while many of us argued that Lee was best-suited to bat 6th a few months ago I'm sure we'd all agree now that he should remain the #3 hitter for as long as his hot bat justifies it.
As for Ryan Dempster, the bad-luck Cubs starter, he pitched into the 7th, striking out 9, raising his ERA to 4.09, but collecting his 5th win of the season. It wasn't perhaps the ideal start but we'll take it.
The Cubs are now 2.5 games out of first. If they are able to win this series, they will be no more than 1.5 games behind the Brewers when Milwaukee leaves town. If the Cubs sweep, they might not find themselves settled in at first place (the Cardinals and Reds would still have a say in that) but they would be, at least temporarily, ahead of the Brewers in the standings.
Just food for thought.