Game & Series Recap: Cubs 6, Indians 2 (3 to 0)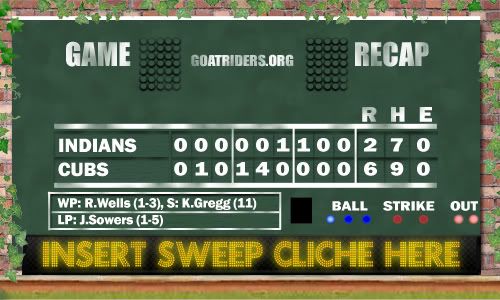 Don't worry, Cubbie Downers. This 3-game sweep of the Indians doesn't count for anything. After all, Cleveland sucks.
For the rest of us, though, it was a small taste of what 2009 should be like. The Cubs played the role of a powerful team with bullpen and bench depth that battled back, overcame adversity, and scored a lot of runs against good pitchers with no room for error.
The team was offensively solid, again, collecting 9 hits while drawing 5 walks. Just like the Cubs of yore. Every regular sans Fukudome managed to get a hit, the 4-5-6 guys drove in all the runs, and the Jake Fox third base experiment continues to ... well, continue. Fox went 1 for 3 today with 3 RBI and he even managed to avoid making any errors!
But probably the best story of the game is Randy Wells. This guy has been through a lot. Despite his 2.57 ERA this year, it took Wells 8 tries to earn his first-ever big league win. I remain unconvinced that Wells will remain successful for the duration of the '09 season, but wouldn't it make for an awesome story if he does?
Anyway, the Cubs are now 34-31. They play again tomorrow night in a theoretically tougher make-up game against Atlanta, who themselves aren't exactly on the right track to the playoffs. After that it becomes a race with jet lag as the Cubs take on the first-place Tigers.
Current Record: 34-31
Position in the NL Central: 3rd place, 2.5 games out
Best Possible Record: 131-31
Worst Possible Record: 34-128
Record needed to win 110: 76-21
On Pace For: 85-78