Series Preview: Indians vs. Cubs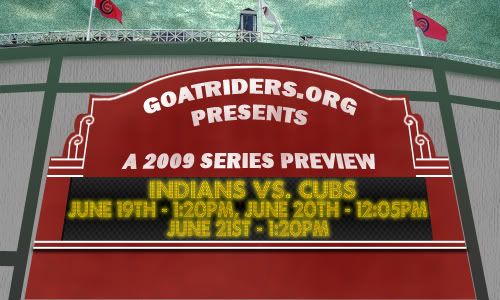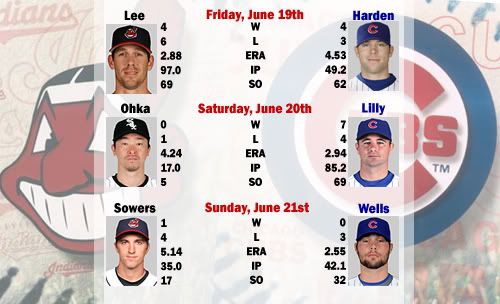 This will have to be short as I am also writing the GameCast today and I've got roughly 15 minutes to do both.
Overview
Ever want to see a Cub fan cry? If it's not October, your best bet is to visit Wrigley Field for a game which features the return of not one but two departed Cub stars. Mark DeRosa and Kerry Wood will be back this weekend, hoping to propel the lowly Indians past the dreadful Cubs.
Me, I'm thinking that this is the series where -- I know, I've been saying it a lot -- th Cubs bust out. They just experienced the rollercoaster high of a dramatic 9th inning win against a heated rival and their slumbering offense may be on the brink of waking up.
Of course, our friends would probably point out that baseball players perform based on statistical probability. Unlike how you or I may bungle tasks or projects at work if we are feeling distracted or depressed, in baseball things like "feelings" -- which cannot be statistically quantified -- do not impact the play on the field. So, the thrill of yesterday's win means absolutely nothing to today's game in the world of counter-programmers. Hey, they're probably right.
Match-Ups
Friday, June 19th - Cliff Lee vs. Rich Harden
Lee -- who owned the AL so hard last year that some teams still owe him his pimping money -- has continued to pitch well in 2009, but unfortunately for a team with an offense almost as schitzo as the Cubs'. His ERA is nearly 2 runs lower than Harden's and he's thrown nearly 50 more innings and yet he's still only 4-6 on the season.
Rich Harden, meanwhile, pitched well in his return to the team and is looking to further increase his trade value but giving a strong performance against an American League team. I still think he's been much better than his 4.53 ERA conveys, but what do I know -- his ERA is a stat and I can't prove my thought so I'm clearly wrong on that one too.
Saturday, June 20th - Tomo Ohka vs. Ted Lilly
Tomo Ohka, meanwhile, is a new addition to the Indians rotation. So far he's their version of Randy Wells -- winless in multiple tries. Although he's thrown way fewer games and has had dramatically less success. Then again, he's probably nothing like Wells at all, except he too looks like K-Fed.
Theodore Roosevelt Lilly sometimes serves as Bill Murray's body double at public functions. But on days that he pitches he most resembles Hannibal. Either way, it almost seems amazing that he's won 7 games for a team as offensively erratic as the Cubs. So far in '09 he's been a lot like Ryan Dempster of '08 in this one regard: nearly unbeatable at home. Lilly is 4-1 with a 1.48 ERA at Wrigley Field.
Sunday, June 21st - Jeremy Sowers vs. Randy Wells
Back in the day of Dusty, even crappy lefties like Sowers would tie the Cubs up in knots. But while Sowers throws with his south paw, he might as well be aspiring to toss batting practice. So far in '09 he's surrendered 36 hits in 35 innings, coupled with 17 walks to 17 strikeouts. It should be a high scoring game for the Cubs. Keyword: should.
Randy Wells, der der der, overdue, der der der, etc. can't win blah yadda.
Seriously. Randy Wells. Wouldn't it just be ridiculous if he never won?
Conclusions
With this team who knows? I'd like to think that the win yesterday vs. the Sox is the spark the team needed, but baseball is never so simple. Still, the Indians suck and the Cubs are playing at home. This is a series in which victory should be expected.
Tip for Purchasing Tickets Online
Most online brokers and marketplaces in the secondary market charge a service fee during checkout regardless of what you are purchasing, such as Chicago Cubs tickets or anything else. Typically you can walk through the first few steps of checkout to find out if there will be any additional charges.. From your friends at Neco.com, the home of transparent pricing.