Game Recap: Cubs 8, Indians 7 -- a tale of two games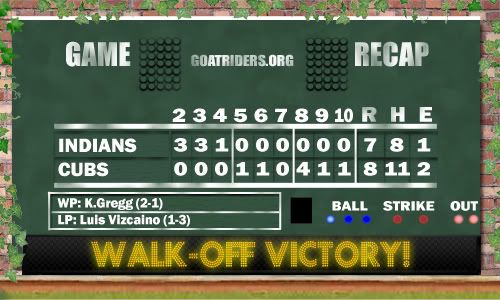 Well that just figures. Here we have a Cubs team that just won a highly exciting game against the White Sox, only for them to get blown out of the water against the Indians.
Rich Harden, our team's supposed best-stuff pitcher, squared off against Cliff Lee and turned it into a one-sided pitching duel. It was 7 to 0 in the 5th, Mark DeRosa had heart-breakingly contributed to the bloodshed, and Harden was brushed aside like a fly.
At that point it was evident. The Cubs were done for. The season was wasted. I mean, if the Cubs get blown out at home by one of the worst teams in the AL then what chance do they have against some of the best teams in the NL?
Anyway, it wasn't a total waste. Once the game was out of reach the offense showed some sparks of life. Reed Johnson made the first score in the 5th with a solo homerun, and then Derrek Lee contributed a solo shot in the 6th. In the latter situation, Lee was not the first at bat in the inning. If Bradley was able to actually hit the ball regularly or get on base, then it may have been a more meaningful two run homer, but we all know Bradley is a waste.
Speaking of Lee, I have to say that upon reflection, you were all right. At the end of the '08 season, and again in the Spring and early parts of April, a number of fans had proclaimed that he was washed up and should be replaced by Hoffpauir. I admit that I defended Lee strongly at the time, citing Hoffpauir's old age and fluke-until-proven-otherwise status, but I was wrong. While he hit a meaningless homerun in the 6th, Derrek Lee is not the player he once was.
(Sorry, I couldn't help myself up until now)
It wasn't until the 8th inning -- with two outs against them -- that the Cubs began to play like they should have played all year long. The unlikely heroes of the inning were Andres Blanco, who singled home 2 runs with 2 outs, Koyie Hill, who was safe thanks only to a fielding error by Peralta (and, consequently, who scored Reed Johnson on the play) and Alfonso Soriano, who singled home Blanco. Suddenly, just like that, it was a 7-6 game. Not to worry, the Indians survived the onslought and had their closer ready to finish off the Cubs.
It just figures that much as Mark DeRosa would play an important part in the game for Cleveland by going 1 for 3 with an RBI and 2 walks, Kerry Wood would step in to extinguish a comeback attempt in the 9th. He probably would've done it, too, had it not been for that damned Derrek Lee.
Mr. Lee, who went 3 for 5 on the day with a double hit his second homer of the day, still a solo shot but this time a game-tying one to boot. Does that remind you of anything that has happened before? Well, it wasn't on ABC, and the Cubs weren't facing the Cardinals, but an ex Cub closer was on the mound and he did serve up the second homerun hit by a Cubs star, resulting in a tie game and elevating Cub fans everywhere. And then just like in 1984, a scrappy middle infielder singled home the winning run in the 10th ... also off of an ex Cub pitcher Luis Vizcaino.
Oh, and before I forget -- he scared us in the 10th, but Kevin Gregg managed to load the bases and send them home without damage. I just wanted to note that.
Derrek Lee now has a .285 AVG on the season, he's hit 11 homeruns, and for a little while at least he's justified batting him third in the lineup. We have modestly criticized Lee in the past for not being a team leader, and I still don't think he's one in the traditional sense. But if he wants to lead by example the rest of the way, and if he wants to elevate the team with his bat at every given opportunity then you won't hear complaints from this peanut gallery.