Series Preview: Twins vs. Cubs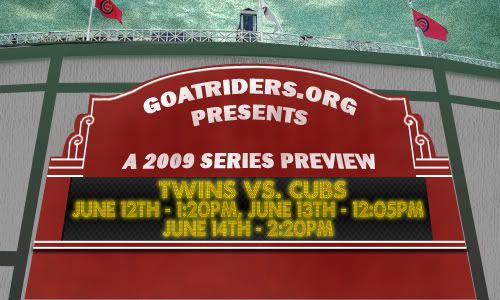 Overview
Dazzled by the success of the Blackhawks this season, the Cubs apparently think that low-scoring games are exactly what the fans have a craving for! Except when the Cubs tend to be on the wrong side of the decision it leaves us feeling frustrated and saying ridiculous things like "wowee! Tom Glavine and Pedro Martinez are available! Maybe the Cubs can go out and get 'em!"
There is no free agent who can fix what's broken with the Cubs. In fact there aren't many players available who are better than the Cubs theoretically can be. But we're in June. There's little time remaining for players to suddenly turn it around and put up the numbers they are capable of.
Instead I think we're just going to have to accept that, much as last year's Cubs all gave surprisingly reliable performances, this year's version is busy giving surprisingly shoddy ones. Maybe it's a coaching issue -- how many times have we seen poor approaches to the plate or unreasonable blunders in the field? Don't they have people who serve as instructors with the intention of avoiding those problems? Maybe it's a talent issue -- perhaps Fontenot isn't a starter, Bradley can't play the field, and Soriano is so single-dimensional that he borders on uselessness. Or maybe there's plenty of blame to go around.
The good news is that nobody has run away with the NL Central this year. These mediocre Cubs are only 2.5 games out. But several things won't continue. Sooner or later, the Brewers, Cardinals, or -- lord forbid -- Dusty Baker's Reds will go on a run. Sooner or later, the Cubs unbelievable starting rotation will stop pitching so insanely well. But before those things happen the Cubs still have time to right their offensive ship and to shore up their bullpen.
But will they?
The Match-Ups
Friday, June 12th - Randy Wells vs. Kevin Slowey
Randy Wells is going to start getting tear tattoos on his face. For each game the bullpen -- and offense, let's not be picky -- squanders a win opportunity, he will tattoo on another tear. Before long it will look like a waterfall. In the Alternate Universe's 2009 season, the Cubs would be leading this crappy division by about 10 games right now and Wells would be in competition for the Rookie of the Year Award. But here in reality I have to wonder what will happen first -- a win or a blow-out loss. He's due for both.
Kevin Slowy is the polar opposite of Wells. His numbers aren't great -- a 4.21 ERA -- but he's on pace to win 20 for the Twins. I guess it's fair to say that he's due for a loss as much as Randy is due for a win.
Saturday, June 13th - Rich Harden vs. Anthony Swarzak
Harden is ready to make his triumphant return! ESPN reports that he's available for 85 pitches -- or 5 innings -- which ever comes first. A healthy Harden only strengthens an impressive rotation -- and a mediocre bullpen. Considering that he wasn't DL'd for arm problems, we can only imagine that he will be effective, nay, nasty out there on the mound.
Swarzak. "Swarzak." Say it out loud. I'm sure that somewhere, in some language, "Swar" means "testicles" and that is just funny. If the Cubs struggle to score in the first game of this series -- and you know they will -- then their best chance of an offensive explosion is against the 'Zak, who isn't exactly setting records as he blazes toward overtaking Zack Greinke as the best pitcher in the AL.
Sunday, June 14th - Ted Lilly vs. Scott Baker
At the rate he's going, Ted Lilly will be the Game One starter of the NLDS -- assuming the Cubs get that far. Lilly has been the most reliable pitcher on the staff and remains on pace to win about 20 games this year. It's amazing to think about but Lilly is the first left-handed starter to have multiple years of success for the Cubs since Rick Monday was pitching for Leo's teams in the 60's.
Scott Baker, meanwhile, is about as bad as the 'Zak, except he's been worse for longer.

Conclusions
This is a series that a good team would sweep. Not that the Twins are a bad team, but they're throwing to mediocre pitchers at the Cubs and a third pitcher who's been more lucky than good. In other words, if the Cubs can surprisingly deliver a win for Randy Wells then they should have a good chance of winning their next two games.
Or they could combine to score 7 runs in the series and escape with one victory. Because that's the way it's been this year. Which you know.
Tip for Purchasing Tickets Online
Most online brokers and marketplaces in the secondary market charge a service fee during checkout regardless of what you are purchasing, such as Chicago Cubs tickets or anything else. Typically you can walk through the first few steps of checkout to find out if there will be any additional charges.. From your friends at Neco.com, the home of transparent pricing.