Game & Series Recap: Cubs 1, Astros 2 (1 games to 2) - Fulchinoed!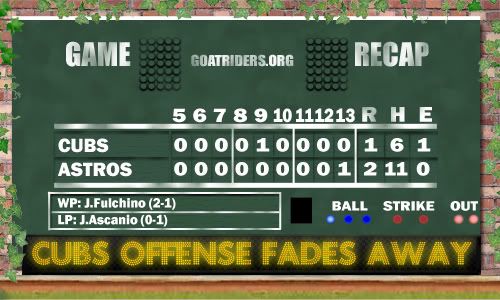 The Astros were held to five runs in this series, and they somehow managed to steal two games. Damn you, Geoff Blum!
There are plenty of positives to take from this series. For one, the starting pitching continues to be outstanding. If I understand how to use these interwebs things correctly, then I'm right in saying that the Cubs now lead the major leagues in ERA from starting pitchers. For those of us that have been watching all year, that's really not all that hard to believe. The starting pitching has been by far the strongest suit of the 2009 Cubs.
No, it's not the starting pitching that's keeping the Cubs down. Lately, and particularly in these past three games, it wasn't even the bullpen that kept the Cubs out of the Winner's Circle. Another positive--we got a lot of good innings from our relievers.
The problem is these Cubs can't figure out how to freakin' score.
Fortunately for Lou, I've got some really excellent ideas on how to help the Cubs get it in gear and consistently score some runs! (How generous am I?!)
For one, based on preliminary results from the poll, it looks like most people agree that Alfonso Soriano should not be hitting lead-off for the Cubs right now. His average in June is below .200, he is swinging at bad pitches, he's not drawing walks--and yet he continues to get the most plate apperances of any Cub hitter every single game. This is ludicrous, right?
Second, I cannot understand how this team is better off with Aaron Miles, Bobby Scales AND Andres Blanco over Jake Fox. Frankly, I think Scales is every bit the ball player that Miles is, and that Hendry wasted $4 million in adding Miles to the team. Having said that, carrying both is a mistake (I prefer Blanco over the other two because, aside from today's error, he's flashed a pretty good glove over at short). And what happens when Ryan Freel gets healthy? Gah!
My last idea is probably my best one. Let's FORCE Aramis Ramirez to get healthy really quickly. That way, he can crush our opponents' hopes tomorrow, instead of a month from now. Why hasn't anyone thought of this before?
If we continue to get such excellent starting pitching throughout the season, the wins will come. But until the offense comes around, it'll be more of this crap every couple weeks.
Go Cubs.
Current Record: 29-27
Position in the NL Central: 4th place, 2.5 games out
Best Possible Record: 135-27
Worst Possible Record: 29-133
Record needed to win 110: 81-25
On Pace For: 83-79