Game & Series Recap: Cubs 6, Reds 3 (2 games to 1)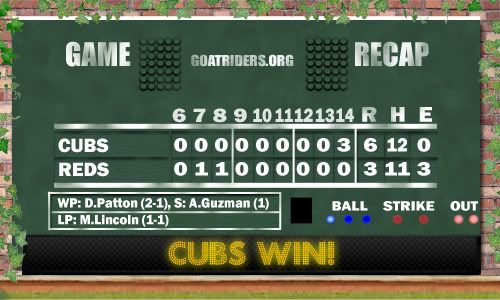 By one percentage point the Cubs have hurdled the Reds and are now in 3rd place of the NL Central. If they don't straighten up it will be the closest they get to the Brewers and Cardinals.
Randy Wells -- who I now think looks more like Sam from True Blood than K-Fed -- delivered another strong performance. He went 6.2 innings, surrendering 2 runs off of 7 hits and 1 walk. And thanks to the offensive contributions of Ryan Theriot and Derrek Lee, he exited the game in the 7th with another shot at his first win.
Then, Carlos Marmol came in and walked the only 2 batters he faced. Wisely Lou yanked him immediately -- Piniella really needs to start getting stiff with Marmol -- and while Aaron Heilman managed to mostly get the Cubs out of a bases-loaded jam, he was unable to do it before allowing one run to be sac flied-in by ex-Ray Johnny Gomes. More on this play later. With that run went Randy's win, and so our troubles began.
Between the 9th and 14th innings, the Cubs had multiple opportunities to score. They left multiple runners on in all but the 12th inning. They made numerous bonehead plays, like when Theriot botched a hit-and-run with Blanco by striking out, resulting in a double play. In reality the Cubs sloppy offensive play contributed toward this simple conclusion: they did not deserve to win today.
This conclusion is supported by the sloppy defensive play too. In the 8th when the Reds tied it up, Reed Johnson failed to throw a caught ball to the right base resulting in a loss of a double play opportunity. It didn't directly come back to bite the Cubs on the ass but Reed's pointless attempt to gun out Nix at third is just one example of the defense not playing good, fundamental baseball.
Nevertheless, once Marmol was chased into the showers the bullpen did its job rather well. Gregg, Ascanio, Patton, and Guzman combined to give the Cubs six innings of scoreless ball. On a team in which the bullpen is one of the weakest points they delievered. They were able to keep the game tied until the Cubs offense woke up, exploding for 3 runs against the depleted Reds in the 14th. Soriano homered, Fontenot drove in Theriot, and Reed doubled in Fukudome. Just like that an excrutiating game turned into a late blow-out.
So, now the Cubs are in third place. They next travel to Houston to take on the hapless Astros who, despite their haplessness are almost as close to the Cubs as the Cubs are to the Brewers. Just some perspective for ya.
Current Record: 28-26
Position in the NL Central: 3rd place, 3.5 games out
Best Possible Record: 136-26
Worst Possible Record: 28-134
Record needed to win 110: 82-26
On Pace For: 84-78