Series Preview: Cubs at Cincinnati In the Battle for Third Place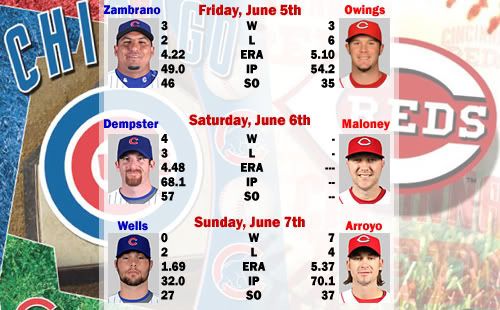 Two teams enter. Only one ... well, okay, both ... shall leave. But it's very possible that after this upcoming series is played out the Cubs may find themselves leap-frogged in front of the Reds, who presently occupy third place in the NL Central. Granted, they'd have to sweep. On the road. Against a team that has offensively owned them the last few years. But it could happen!
Actually I'm very interested by the Reds nowadays. They used to be just another NL Central team from an insanely religious* part of the country whose greatest all-time player is a scumbag. Now they're the destination of Dusty Baker and any Cub fan worth his ilk not only detests Baker but also follows his career'S failings with a fervor.
(*experience tells me that I have to note the fact that I'm calling Cincinnati "insanely religious," rather than religion itself "insane." Just making myself clearer here. It's sort of like how if referred to the insanely hot Charlize Theron... I'm not implying that hot women are crazy with that statement, I'm just using "insanely" as an adjective to describe the ridiculous level of Theron's hotness)
I digress. At this point in time, based on everything that's gone before, this is the most important series of the season. A Cubs sweep translates to third place in the division. If the Reds win the series, the Cubs exit Cincinnati a .500 team at best and in need of urgent action.
The problem is the stuff I mentioned earlier today... until Lou Piniella shakes up the bullpen and re-constructs the lineup the Cubs are in for some ugly losses. Back when Dusty was here and he was refusing to shake up the lineup, I attributed it to a stubborn Me Against the World I Ain't Changin' attitude (sort of like how Dubya probably should have fired Rummy long before the Republicans lost the '06 mid-terms). The thing is, I don't see Lou having that problem. As far as I know he doesn't feel attacked, criticized, or scrutinized -- and even if he did, I doubt that would prevent him from making changes. So Lou ... what the hell?
The Pitching Match-Ups
Friday, June 5th - Carlos Zambrano vs. Micah Owings
Back in March the GROTA crew unanimously predicted that Carlos would win 20 for the first time in his career in 2009 (Kyle even said it'd happen despite Zambrano being injury-plagued!). Well, it's still possible but increasingly unlikely. Carlos would need to put on a pitching clinic of '84 Sutcliffeian Proportions and the lineup would have to give him consistent run support. That's a pretty tall order.
Micah Owings is another guy who needs run support; on his part it's because he's not exactly what you'd call "reliable." In his third season with the Reds, he's 17-23 on his career with a 4.99 ERA. This year he's 3-6 with an ERA of 5.10. He's managed to escape Dusty's typical cycle of abuse, which leads me to think he's dogging it on purpose. After all, Baker won't let him throw 120 pitches a game if he's giving up 5 or more runs each outing. Genius plan, Owings!

Saturday, June 6th - Ryan Dempster vs. Matt Maloney
Two plus months into his big contract, Ryan Dempster has been a victim of love (and inconsistent pitching. But mostly love). But I dunno... take a look at his numbers. He's on pace to throw 216 innings, surrender 191 hits, walk 85 batters, strike out 181, and win 13. Last season he threw 206.2 innings, surrendered 174 hits, walked 76 batters, struck out 187 and won 17.
His pitches per game started between this year and last year are nearly identical (101.2 compared with 100.8.). His K/9 ratio: 8.14 to 7.51. His K/BB ratio: 2.46 to 2.11. AVG against: .227 to .240. OPS: .641 to .713. I dunno, maybe I'm missing something but it just seems as if those minor differences demonstrate why his ERA jumped from 2.96 to 4.48. Either he was really lucky last year or he's been really unlucky this year. I'm choosing to believe it's the latter (although it's probably actually a little bit of both), and if that's the case then I soundly expect Dempster to finish the year with more than the 13 wins he's on pace to have and less than the 4.48 ERA that he's presently got.
Oh, and Matt Maloney is scheduled to make his big league debut. I'm a little surprised by his presence on the Reds ... I always thought Charlie Brown would pitch for the Cubs. (Look at him. LOOK AT HIM!!!) This year in AAA he's got a 2.00 ERA 10 starts. Still, he'd have to be exceptionally special to overcome the First Start Blues.
Sunday, June 7th - K-Fed Wells v. Bronson Arroyo
Randy Wells practically threw a no-hitter his last start. He exited the game with something like a 5-run lead and he's still waiting for his first win. What will he have to do to get the W? I'm predicting an unlikely path ... Wells is going to get lit up like a gasoline-drenched fire cracker on Sunday but will get the win anyway because it's just going to be that kind of game.
In one of life's ironies, Bronson Arroyo has a 5.34 ERA and is on pace to win 20 games. I guess the Reds offense must be that good. He's got a long history of aggravating the Cubs, which means that he's due to receive some payback.
Conclusions
No predictions, not this time. The Cubs are capable of owning the Reds. The Reds are playing better baseball than the Cubs. We can only hope that it comes down to a contest of managers because as ridiculous as Piniella may sometimes appear to be, he makes Baker look like a buffoon.
Tip for Purchasing Tickets Online
Most online brokers and marketplaces in the secondary market charge a service fee during checkout regardless of what you are purchasing, such as Chicago Cubs tickets or anything else. Typically you can walk through the first few steps of checkout to find out if there will be any additional charges.. From your friends at Neco.com, the home of transparent pricing.