Game Recap: Cubs 2, Dodgers 1 - Is this a repeat?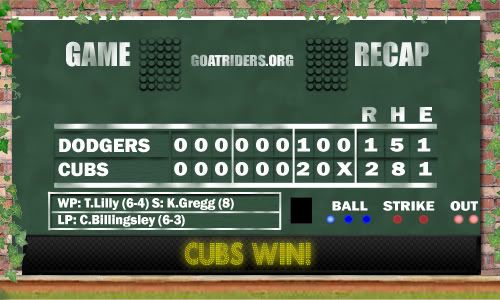 At this time last year, the Cubs faced the Dodgers in a home series which they swept. The final score of that 3-game series? Cubs 8, Dodgers 3. At this point in a 4 game series neither team is on pace to score 8 runs.
The difference between this year and last year is that after the Cubs barely scraped past L.A., the Dodgers went out and acquired a game-changer who helped them trounce the Cubs in October. Who knows if the Cubs will even get to the playoffs but hopefully they've got something up their sleeves to change the scenario a bit.
This game is what we could conservatively call a "snoozer." No team scored a run until the 7th, when both squads exploded for a combined 3 scores. Matt Kemp briefly gave the Dodgers the lead before Three-Finger tied it up. The Cubs then managed to load the bases on one out before Fukudome sac-flied the winning run. Not exactly high-noon drama.
Roosevelt continues to pitch well out of the rotation, going 7 strong, allowing 4 hits, 3 walks, and striking out 5. He was relieved by Marmol and Gregg who combined to allow 1 hit and 2 walks in 2 innings of relief, but without any score. Marmol's control issues remain concerning.
Nevertheless, a win tomorrow for the Cubs guarantees a split. Although both teams have had dry offenses, and despite the fact that L.A. is one of the best teams in baseball right now, I fully expect the Cubs to do better than that.