Series Preview: May 28th - Cardinals vs. Cubs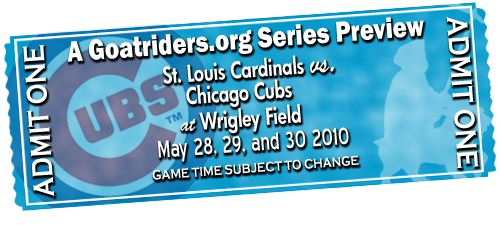 Overview:
It wasn't so long ago that the Cardinals were 18-8, easily in first place, and clearly on their way toward World Series Glory. At the same time, the Cubs were 13-13 and headed southward.
Since that day, the Cardinals have gone 9-13, the Cubs have gone 8-12, and fans at Wrigley don't have to be sober to see the glaring, throbbing, missed opportunity. However, Chicago has won 8 out of their last 11, and there appears to be a light at the end of their tunnel. Maybe. We'll get to that in a bit.
But what we should be focusing in on now is that total lack of invincibility of the Cardinals. That's right -- even Albert Pujols and his crew of HGHeroes (SteroidSidekicks?) are not unbeatable. Their early season lead was not insurmountable - just ask Dusty Baker* and the first place Reds.
(*Dusty Baker! In first place!!)
But what about the Cubs? Yes, they've been playing well enough for even the most cynical of us to feel brief tugs of admiration, but it very truly could be smoke and mirrors. Some of the hot-starters, like Kosuke Fukudome, Geovany Soto, and Starlin Castro, have begun to cool off. And at least one late-beginner, Aramis Ramirez, may be dangling precariously on the edge of never-would-be. Dude sucks.
Over in the pitching staff, Carlos Silva has continued to win. Sooner or later, the officials will forbid him from assembling his mirrors and smoke machine before each start, but until that time comes, holy hell what a good trade. The bullpen has also been looking a little better. Marmol, Marshall, and Russell have been pretty reliable. (And can you believe that Carlos Marmol has a 17.88 K/9 ratio right now? Dude, if a starting pitcher could do that and throw 210 innings, he'd finish the year with 417 SO's!)
So, the Cubs have just enough going for them to not be hopeless, but the hopeless they have (Rammy, Bullpen Pitchers 4-7) looks pretty bad. Still, imagine this: if the Cubs sweep the Cardinals this weekend, they will exit the series with a 26-25 record, while St. Louis would be 27-24. Considering that you know and I know the Reds are not going to be playoff bound, then that would put the Cubs within a game of the only team they actually have to worry about.
Let's look at how realistic it is that that could happen...
Friday, May 28th, 2010 - Randy Wells (3-2, 3.99 ERA) vs. Chris Carpenter (5-1, 3.09 ERA)
Remember the olden days, when Chris Carpenter was about as healthy as a New York City hooker? How I miss them! Carpenter has gotten stronger as '10 has moved along. His May ERA is 2.75, although in his last start he got kicked around like a tin can. I dare say he's due for a throttlin'.
Randy Wells, meanwhile, is a perfect example of the lil' pitcher without big stuff who makes the most of the few gifts God has given him. And since he took an ass-beating against the Pirates at the beginning of the month, those gifts have translated into a 2.74 ERA and zero wins. I dare say he is due to do some throttlin'!
Saturday, May 29th, 2010 - Carlos Silva (6-0, 3.52 ERA) vs. Adam Ottavino (0-0, -.-- ERA)
Silva has already won more games in 2010 than he did in 2009 and 2008 combined. He's basically a jalopy. Sure, drive him around town, and he'll get you to and from without much of a problem. But take him on a road trip somewhere and you will find yourself stranded on the side of the road, watching the better cars pass you by. Sooner or later, Silva's going to have his breakdown, but so far he's been absurdly fun to watch.
Ottavino -- Doctor Ottapuss to his friends -- is a right-handed starting pitcher making his big league debut tomorrow. He pitched outstandingly this Spring for St.Louis (a 2.38 ERA in 11.1 innings) but he's yet to throw a pitch in a game that matters. Last year, he went 7-12 in Triple A with a 4.75 ERA.

Sunday, May 30th, 2010 - Ryan Dempster (3-4, 3.31 ERA) vs. Adam Wainwright (6-3, 2.38 ERA)
Ryan Dempster has been the poster child of Hard Luck Losers in 2010. For his ERA, and his 1.03 WHIP, and his high strikeout rate, and everything else, Dempster should have at least as many wins as Silva. Instead, he's been beaten like a petulant child. But after eating 3 consecutive losses earlier this month, he dominated the Dodgers in his last outing and is poised to build on that win.
Wainwright, meanwhile, will always have a special place in my heart. I once had a heated debate with a moron Cub fan about Wainwright. I argued -- correctly, at the time -- that Rich Hill would have a better season than Adam, while Captain Idiot used Wainwright's clear superiority as yet another example as to why the 2007 Cubs would have no chance of winning in the division.
Long term, that dope was right. Hill was a flash in the pan, while Wainwright has grown into a successful, kick-ass young starter. Dude's already thrown 2 complete games in '10, and he's on an early pace to win 20. He'll be a tough hurdle for the Cubs to overcome on Sunday.

Conclusions
Earlier, I speculated that a sweep of the Cardinals would put the Cubs in a position to compete for the division lead. Saying it's a lot easier than doing it. The Cardinals are throwing two of their best pitchers at the Cubs. The Cubs are a struggling offense who have yet to do anything impressive against good pitching. Certainly, Chicago should win 1. Maybe even 2. But 3 is probably out of the question.
Buy Chicago baseball tickets at Coast to Coast, your Chicago Cubs ticket source!