Game & Series Recap: Cubs 5 (2), Pirates 2 (1)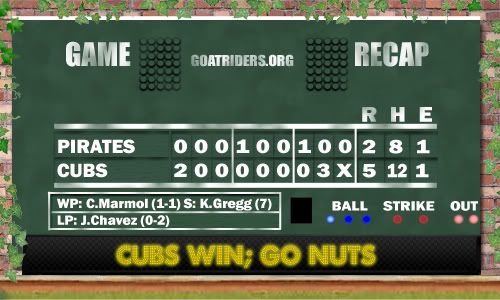 In the early months of the 2009 baseball season, a crack baseball team was sentenced to numerous ejections by the MLB disciplinary committee for infractions they didn't commit. These men promptly escaped from their maximum suspension sentences to the Chicago underground. Today, still wanted by baseball's authorities, they survive as athletes for hire. If you have a problem, if no one else can help, and if you can find them, maybe you can hire ... the C-Team.


These Cubs. If you're not a fan of them to begin with they seem awfully hard to love. When Milton Bradley isn't "bumping" umpires and complaining about a conspiracy against him, Ted Lilly, Ryan Dempster, and Carlos Zambrano are all trying like hell to get themselves ejected and suspended. Today was Zambrano's turn.
After arguing angrily with an umpire in the 7th inning, the Moose was ejected for "bumping" the ump -- who, based on the footage I saw, stepped into Carlos. Upset by the obvious ruse to get him tossed, Carlos promptly did the only sensible thing: he ejected the umpire, returned to the dugout, and beat the holy hell out of a gatorade cooler.
Apart from the likelihood that Mr. Z is looking at probably a 7 to 10 game suspension, I have to admit ... that was pretty freaking cool. Sorry, I know, he needs to start acting like an adult and all, but c'mon. Can you blame him?
I respectfully direct you to early June, 2007. An angry Carlos Zambrano pummels his teammate and catcher. The team's manager has a legendary fit with an umpire and gets ejected. And that was when a team 9 games under .500 started to roll. Carlos must be sick of waiting on Lou Piniella because after his amazing flip-out the Cubs -- who had been offensively inadequate -- scored 3 runs in the 8th and won the game and the series against the Pirates.
Speaking of the offense, maybe I'm wrong but it seems to me that Reed Johnson is perhaps stepping up and filling the leadership role the Cubs have lacked the past few years. He apparently told Milton Bradley the other day that M.B. doesn't have to shut down his at bat just because the umpire blows a call -- resulting in a resurgent Don't Wake Daddy (who went 1 for 3 today with a walk and a triple) -- and he hit a clutch go-ahead homer after Zambrano's ejection.
The Cubs also saw 3 more hits from Ryan Theriot and they were greeted by Jake Fox who hit a pinch hit, run-scoring double. Fox is going to be interesting. He can't play defense but he can hit the ball a mile.
All told, it was a harder win than it looked and a more interesting and entertaining game than we could have expected. The Cubs head tomorrow into a match-up against the Dodgers who have been hot as hell despite missing their star slugger.
And am I concerned about Zambrano's meltdown? Nope. I've been to this party before. The last time it happened, it was Lou doing the flip-out. I misread the situation, thought he'd lost the team and the season was over and immediately found myself proven wrong. So no worries here with Carlos ... even if he misses a little bit of time and grows a mo-hawk.
Current Record: 23-22
Position in the NL Central: 4th place, 4 games out
Best Possible Record: 140-22
Worst Possible Record: 23-139
Record needed to win 110: 87-30
On Pace For: 83-79