Game Recap: Cubs 6, Pirates 1, Losing Streak Over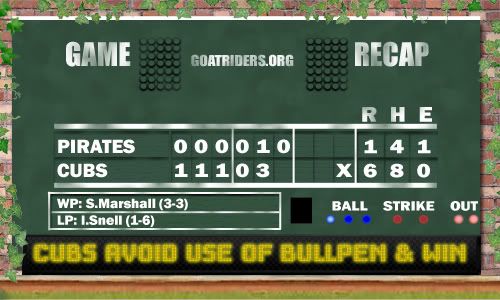 Lou Piniella finally figured out how to overcome his bullpen troubles: pray for rain.
One thing for sure - based on the last two games, the Cubs offense has finally revitalized a little. In a rain-soaked (and shortened) game, the Cubs scored 6 in 5 innings. Every Cubs regular got on base at least once except Ryan Freel, while the Questionable Quartet -- or at least, the half that played -- were key contributors to the offense.
Milton Bradley was 0 for 1 with 2 walks and a run scored and Mike Fontenot went 2 for 3, raising his AVG back up to .219 (hey, we'll take it).
Also, Kosuke Fukudome continues to be on pace to out-slug his '07 self, after hitting his 5th homerun of the year in the 1st.
Sean Marshall, meanwhile, continues to prove that he was a good choice to start. He got a cheap Complete Game (although I suspect they won't "count" it as such in his stats), dropped his ERA to 3.70, and struck out 6.
The Cubs play in the rubber game today -- something we haven't been able to look forward to in a long, long time.