Series Preview: Cubs vs. Phillies (belated)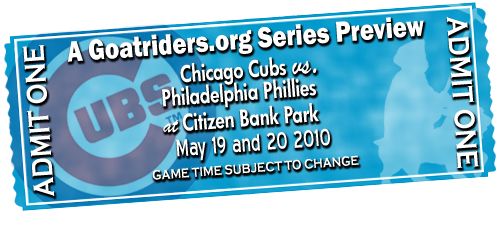 Whoops. Sorry for the lateness.

Overview
In one hand, you've got the Phillies. Back-to-back NL Champs. Presently 9 games over .500, touting one of the meanest offenses in the game. Their star slugger, Ryan Howard, has 7 homeruns and 29 RBI in 38 games, and he's actually being outproduced on various levels by Chase Utley, Shane Victorino, and Jayson Werth.
In the other hand, you've got the Cubs. Back-to-back(x51) NL losers. Their 13-million dollar first baseman is batting .229. Their similarly-well-paid third baseman is hitting at a .171 clip. Their nearly 20-million dollar ace is pitching from out of the bullpen. Can anybody say, "Phillies sweep Cubs?"
Aha, but it didn't happen. The Cubs romped their way past Jamie "GET OFF MY LAWN" Moyer, who probably would pitch no-hitters every time out were he not battling arthritis and dementia. But more on that in a different post. Let's instead look to the future...

Thursday, May 20th - Ryan Dempster (2-4, 3.49 ERA) vs. Joe Blanton (1-2, 5.49 ERA)
Jesus. Ryan Dempster, 2-4, decent ERA. Tom Gorzelanny, 2-4, even better ERA. Ted Lilly, 1-3, modestly respectable ERA. WTF?
Hey, the Cubs are due. Ryan Dempster is due. The Phillies are not as good as their record. And while I like Joe Blanton -- if only because he is leniently listed as weighing 244 pounds*, the Cubs are playing like a legitimately respectable big league team right now. Kinda sorta.
Conclusions
Even worse -- we missed the Series Preview to a two-game Series. Embarrassing. The Tribune editors would have my job over this mix-up! In light of recent debates on this blog, in the face of a possible 4-game winning streak, and at the risk of being labeled a homer (when, really, I'm not even remotely homeresque), I will say this:
Despite giving Cub fans the best regular production from first base since Ernie Banks, I enjoy how quickly some fans are to throw Derrek Lee under the bus. We get it -- he's your scapegoat.
But, much like Lee (and Rammy's) numbers thus far, 40 games of baseball can easily be characterized as a small sample size. Don't believe me? After 40 games last year, the Kansas City Royals were 21-19. They'd finish the year just shy of 100 losses. Even the 103-win Yankees of last year looked pretty brutal up until Game 33. Before that point, they were 15-17.
Don't let this convince you that I'm flip-flopping. I still want the Cubs to fire Jim Hendry's ass, so somebody with some passion can step in and assemble a perennial winner. But even I know that neither the Cubs, nor Lee, nor Ramirez are done. Not yet.
Sponsored by Coast to Coast Tickets, featuring best prices on Cubs tickets. and on all Chicago sporting events