Game Recap: Cubs 5, Astros 4 -- Wild One At Wrigley!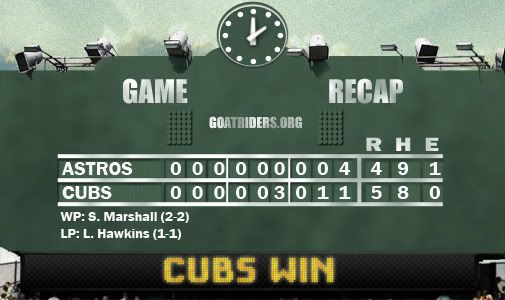 As Len and Bob always say, it's never easy.
The Offense

The Cubs came through when they needed to in this one. After five solid innings from Astros ace Roy Oswalt, the Cubs' two first basemen both came through in the bottom of the 6th. Derrek Lee brought home Alfonso Soriano with a flip single out to shallow left, and Micah Hoffpauir followed with a "useful shot" into the bleachers to give the Cubs a 3-0 lead. Geo Soto's RBI in the 8th may have looked unnecessary at the time, but boy was it ever.
After an absolutely dumbfounding performance from the Cubs so-called closer in the top of the 9th (we'll get to that later), the Cubs ended up needing a 5th run in the bottom of the inning to pull out the win--and they got it. Everyone's new favorite Cub Bobby Scales!!! drew a walk on a 3-2 fastball, moved to second on Aaron Miles' sacrifice, and shouted, "Win! Win! Win!" all the way home on a clutch single from Alfonso Soriano. All in all, a great performance from the Cub offense in this game.
The Pitching

Let's do the bad news first: Kevin Gregg was not good today. After giving up back-to-back homers to Lance "Fat Elvis" Berkman and Carlos "Also Fat" Lee, Gregg couldn't get any of the next three batters out, and left with the bases loaded. Aaron Heilman came on in "relief," and promptly "relieved" the Cubs of their lead on a two-run single on the first pitch to Pudge Rodriguez.
But hey, there's good news! Randy Wells put up six more scoreless innings today. That's 15.1 scoreless in his career with the Cubs, the first Cub since 1993 to start off on such a good streak. He's been hittable, but has avoided any major damage by allowing just one extra base hit this season (a double to Jason Kendall in his last start, against Milwaukee). In addition, Angel Guzman and Carlos Marmol continue to dominate; today they combined for two innings with four strikeouts and zero base-runners.
Conclusion
Should we begin demanding changes in the way Lou trots out his relievers to close games? To be honest, I'm not sure. Before today, Kevin Gregg had pitched 6.2 innings in May, allowing just one run while racking up seven strikeouts. Regardless, it looks like we've got an offense we can trust, even without two of our best hitters in Ramirez and Bradley. Hey, a win's a win, right?
Go Cubs!