Series Preview: Astros v. Cubs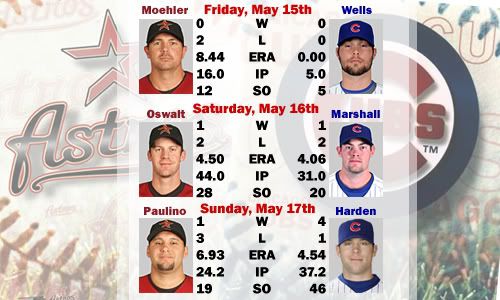 Overview
The Chicago Cubs continue their charge to the top of the NL Central.
The Houston Astros battle it out with the Pirates for the "Worst in Division" award.
This is amazingly the third match-up between these two teams already. So far the Cubs are 4-1 against Houston and this will be the first time they meet in the Friendliest of Confines. The Cubs will be looking to win their 5th straight after having outscored the Padres 23-9. The Astros will be looking to hang on for dear life.
The Match-Ups
May 15th - Brian Moehler vs. Randy Wells
The 37-year-old Moehler can't possibly be this bad... can he? After 4 starts he's 0-2 with an 8.44 ERA. But despite his terrible record he's only surrendered 1 homerun. So how did this happen? In part blame the Pirates and don't forget to serve up a heapin' helping of blame on the Cubs. In his first 4 innings of work - the representative of his first two starts of the year - Moehler gave up 15 hits, 12 earned runs, and he walked 2. That is a WHIP of 4.25. Since he's entered the month of May he has managed to shave about 30 points off of his ERA. No, not .30 points. THIRTY points.
Randy Wells was initially supposed to start yesterday but the Cubs traded him in the rotation order with Clownsevelt. He'll be getting his second big league start later today. A decent performance could spell future use out of the bullpen.
May 16th - Roy Oswalt v. Sean Marshall
If ever Houston would win a game this series it'll be this one. Oswalt hasn't exactly been his former glorious self, and he's had nagging finger problems.* Through 8 games he's won exactly one time, and that was during his last start. Through 3 games in May his ERA is 6.00.
Sean Marshall is this year's hard luck loser in Chicago. Through 5 starts he has a better ERA than pretty much everybody in the bullpen but Ted Lilly, and yet he's only won a single game. Interestingly enough in his 7 total appearances this year, 3 have been against the Brewers and 2 have been against the Cardinals.
(*he just can't stop flipping off people in authority. President Obama visited the Astros clubhouse a few weeks ago and they had to stuff Oswalt into a meat locker. Hijinx ensued.)
May 17th - Rich Harden vs. Felipe Paulino
Harden has shockingly made his first 7 starts. He is presently on pace to win 19 this season - despite his 4.54 ERA and he's also projected to strike out more than 200. But so far the only important "pace" number is 33 - his projected starts. Harden has yet to face the Astros this year.
Felipe Paulino. 25-years-old and with the pitching stats of Mark Grace. The good news for Astros fans is that he's pitching below his career ERA so far this year. The bad news is that his career ERA is 7.01 and he's only under it by 8 points. Also if he's 6-2 and weighs only 180 pounds then I'm the bloody Pope of Nebraska.*
(*There is no Nebraskan Pope! Felipe is really fat!)
Conclusions
I like the Cubs' chances. They're riding a 4 game winning streak, they're facing 3 underperforming pitchers on a team with an erratic offense and their cylanders have started clicking. I predict big wins. I hope I'm not wrong.
Quick Links
Series Preview - Opening Day Cubs at Astros
Series Recap - April 9th, Cubs 11 Astros 6
Series Preview - Cubs at Houston May 6-May 7
Series Recap - Cubs 2, Astros 0
NL Central Rankings of Ultimate Power (May 12)
Tip for Purchasing Tickets Online
Most online brokers and marketplaces in the secondary market charge a service fee during checkout regardless of what you are purchasing, such as Chicago Cubs tickets or anything else. Typically you can walk through the first few steps of checkout to find out if there will be any additional charges.. From your friends at Neco.com, the home of transparent pricing.