Game & Series Recap: Cubs 11 (3), Padres 3 (0)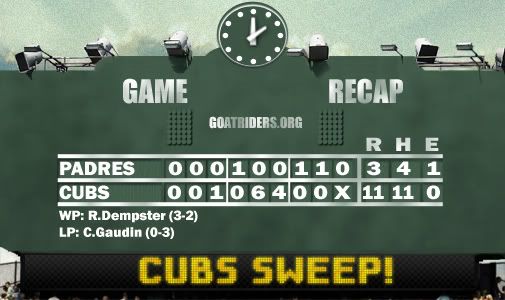 Wow. Now that was an awesome game which will hopefully leave the boo-birds silent for a while. First of all, Chad Gaudin was up to his old tricks. He proved tough to hit, but for him so did the catcher's mitt. The former Cub allowed only 1 hit in 4.1 innings of work but he also walked 7. Amazingly enough he appeared as if he'd get away with his wild streak until the hitters erupted in the 5th.
The Hitters
We actually saw this often enough last year that it wasn't surprising. The 1-4 hitters in the Cubs lineup failed to drive in a single run and yet the team exploded for 11. But unlike those incidents from '08, the 1-4 hitters got the job done -- it's just that they spent the day setting the table rather than clearing it.
Impressively Theriot, Fukudome, and Hoffpauir drew 2 walks a piece - accounting for 6 of the day's 10 walks - and consequently they also made up for 5 of the Cubs 11 runs. Dusty Baker is shocked that the patient, disciplined route worked but Cub fans have always known better.
The first big inning came in the previously mentioned 5th, when Gaudin managed to walk the bases loaded. He was then relieved by Luis Perdomo who continued the party by walking Geovany Soto (scoring a run) and then through surrendering back-to-back doubles to Reed Johnson and Bobby Scales! (The act of coming in to relieve a difficult situation only to fail to get a single out while being beaten like Tina during one of Ike's coke benders is what we like to call "crapping one's pants on the mound.") Turdomo was then relieved by Duaner Sanchez who surrendered an RBI single to the pitcher, walked Soriano, and finally escaped the inning by inducing a ground out from Theriot.
But wait! There was a second big inning! The Padres trotted Sanshiz out there for a second inning of "effective relief," and he proceeded to surrender a hit to Fukudome before he got the first two outs of the inning, at which point Reed Johnson singled and Bobby Scales! doubled home both base runners. Then Aaron Miles doubled home Scales! and Ryan Dempster completed the Trifecta Double scoring Miles.
In other words, Sanchez pitched 1.2 innings, surrendered 6 hits, gave up 4 runs, and walked 1 batter. So much for "relief."
Incidentally Mr. Bobby Scales! went 2 for 4, giving him hits in his first 6 games at the Major League level. As I keep saying Scales really wants to stay in the majors for a while.
The Pitchers
Dempster has been a hard-luck ace this year evoking serious doubts from the faithful about his fat contract. He's still got a ways to go before we feel better about things but today he pitched 7 innings, allowed only 3 hits, 2 walks, struck out 5 and lowered his ERA to 4.65. Not to mention he went all Zambrano on the Padres as previously mentioned. His stellar 2 for 4 day raises his batting average to an impressive .105 on the season -- Milton Bradley territory.
Dempster was relieved by Jose Ascanio, marking his 2009 debut. The Ass-Can threw 2 innings of relief, struck out 3, and surrendered an irrelevant homerun. But hey -- no walks. We'll take it!
Series Wrap-Up
I'll never forget what the Padres did to the Cubs back in '06 when they brutally crushed the team and effectively ended the season. They evoked this photoshop from me at the time:

It brings warm feelings to my blackened heart to see the Cubs deliver a similar blow to the Padres just over 3 years later. This series wasn't even remotely close for San Diego and the Cubs at this moment sit half a game out of first place in the Central.
And still I'm sure that there will be plenty of ledge-jumping moments to come, but that warm feeling you have right now is the right one to have. For all their nagging injuries, and bizarrely bad performances, and heart breaking losses these Cubs are the real deal. Lower the white flag of defeat, raise the white flag of blue victory and bring on Houston!
Current Record: 20-14
Position in the NL Central: Tied for 2nd place, 0.5 games out of 1st
Best Possible Record: 148-14
Worst Possible Record: 20-142
Record needed to win 110: 90-38
On Pace For: 95-67

Quick Links
Series Preview: Padres vs. Cubs
Game Recap: Cubs 6, Padres 2
Game Recap: Cubs 6, Padres 4 Theriot Unquieted
GameCast: May 14th - Padres vs. Cubs Sweep Edition