Series Preview: Chicago Cubs vs. San Diego Padres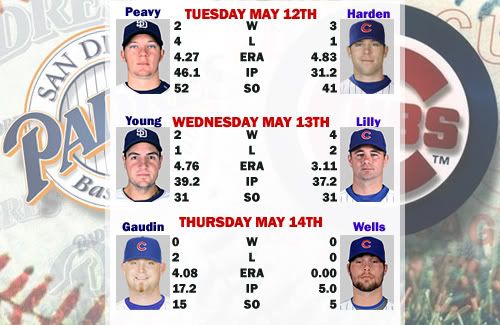 (editor's note: this Preview was written mostly by Jason with a few tidbits thrown in by Kurt. If you read a line that's funny, Jason wrote it. If it's lame, blame Kurt)
Overview
Oh, the Padres, how we scorn you. Who can forget the way you crushed our hopes and deprived the Cubs of their first trip to the World Series in 39 years?
...hold on, that was 25 years ago and nobody really cares anymore?
Who can forgive the smoking bat of that fat, hit-machine pud known as Tony Gwynn? Imagine what his career would have been like if he hadn't gone blind and died tragically prematurely ...
...wait, that was the fat, hit-machine pud known as Kirby Puckett?
Ahem. Anyway, the Padres are exactly the team we thought they were back in the winter time when they came >< that close! to trading Jake Peavy to the Cubs. Imagine what the Cubs would be like right now with Peavy in their rotation? They'd be unbeatable!
...oh, he's 2-4 with a 4.27 ERA? Dammit.
Regardless, the Cubs are 17-14, 2.5 games out of first, while the Padres are 13-19 and are eating the Dodgers' smoke. Plus it's a home series. Sounds to me like it's advantage Chicago, but let's break it down by outing:
Tuesday, May 12th - Rich Harden vs. Jake Peavy
Now *this* is a marquee matchup. The 2-4 Jake Peavy goes up against Rich Harden and his...4.83 ERA. Huh. But...
No really, both these guys are really good! I was ready to trade four prospects, a DeRosa, three Ronnie Cedenos and a generous helping of Cubbie Pride* for Jake Peavy and his arm of gold. He was supposed to combine with Harden to form a rotation, not a Tuesday matchup. WHY JIM HENDRY!! WHY DID YOU NOT TRADE FOR HIM?!? You broke my heart.
And Harden! He's one of the few guys out there who can honestly claim to have better stuff than Peavy. His poor ERA, in my humble opion, is largely a result of his having poor control of his changeup in several of his starts, and not because of any issues with velocity (despite the protestations of hack writers).
If both pitchers are on this game, look for few runs and tons of strikeouts. Not a good day to be a batter.
(* yeah, that's right, I said Cubbie. Suck it)
Wednesday, May 13th - Ted Lilly vs. Chris Young
Here's hoping Lee can make it into the lineup. I love a good fight. Young, generally an excellent pitcher, has also struggled a bit this year (4.76 ERA). I thought Petco was a pitcher's park. Actually, I thought Petco was a pet store, but that's neither here nor there.
Lilly, on the other hand, has been awesome this year. Sporting an ERA just a notch above three, Lilly is the proud owner of a 4-2 record. He's also the proud own of Illinois' largest collection of human shins. Who knew he had a thing for shins?
Color me surprised.

Thursday, May 14th - Randy Wells vs Chad Gaudin
Wait, what? Chad Gaudin? Huh. We could kind of use him right about now, couldn't we? I mean, not that Dave Patton hasn't been great and all**. DAMMIT, CHAD, YOU COULDN'T HAVE TRIED A LITTLE HARDER THIS SPRING? Granted, he's continued to issue more walks than a gleeful warden, but apparently his genius plan of pitching his way off the Cubs roster and into a starting rotation has paid off. But he still looks like an extra from the set of Deliverence.
Wells, on the other hand, has been the Cubs best pitcher with a zero point zero zero ERA. Wells also has a pet monkey. That's all I know. But in seriousness, he wasn't exactly unhittable in his last outing. However he has to know that there's a gig waiting for him once Carlos returns, and if a few decent starts keeps him on Lou's happy list then just maybe the Cubs have an answer to one of their bullpen conundrums in Wells.
(** far be it from me to mention that I said we should keep Gaudin going into the season)
Conclusions
I'm sorry, call me crazy, but I have to call split again.
Note From Kurt
I'm with Jason. I'm not sure how they'll pull it off, but a split appears inevitable.
In all seriousness, we keep harping patience here at GROTA which has earned us the respect of half the Cub fan nation and the scorn of the other half. Those Cubbie Downers appear intent on taking us out via a full-body fling off a building ledge, but we're fast! We're nimble! They're not gonna get us!
However! (You knew there'd be a however, right?) Sooner or later the Cubs will need to buckle down and reel off 10 or 15 straight wins. Or at least, they need to win 10 of 15. Or something. But this up and down and up and down thing needs to end!
So go get 'em! Go Cubs!
Tip for Purchasing Tickets Online
Most online brokers and marketplaces in the secondary market charge a service fee during checkout regardless of what you are purchasing, such as Chicago Cubs tickets or anything else. Typically you can walk through the first few steps of checkout to find out if there will be any additional charges.. From your friends at Neco.com, the home of transparent pricing.