Series Preview: Cubs vs. Florida Marlins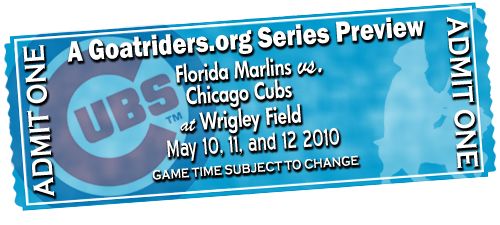 Overview:
This will have to be short -- I'm going to quite possibly lose my internet connection for a day or two, starting tonight.
The Cubs, who are presently 14-18, are hosting the 14-17 Marlins. It's pretty much a moot point as to whether or not Chicago can pull together a successful run -- win or lose, they are still a mediocre team.
The Marlins, meanwhile, are one of the few teams I really dislike. I will always have a pretty bad taste in my mouth over '03. Here's how the series looks like it might play out...
Monday, May 10th, 2010 - Ted Lilly (1-2, 5.29 ERA) vs. Nate Robertson (2-3, 4.85 ERA)
If things continue as they are, this is Ted Lilly's swan song as a Cub. He's nearing the end of a contract that, despite his performance, is unlikely to be extended. Therefore, how he pitches in the next 30-45 days will probably have a pretty big impact on what the Cubs get in return for him. Here's to hoping for some ass kicking, like the days of old.
Nate Robertson, meanwhile, has nearly 20 more losses than he does wins, having spent most of his career in Detroit. The Cubs can make it 20 even tonight. Go get 'em, boys.

Tuesday, May 11th, 2010 - Randy Wells (3-1, 4.86 ERA) vs. Ricky Nolasco (2-2, 4.08 ERA)
Wells is coming off his biggest ass-whippin' of the season. He blames having become a little too cocky for his own good. If that's true, then a focused, buckled-down Wells should kick some serious Marlin ass tomorrow night.
Ricky Nolasco, though, is about the best pitcher Florida has. It won't be easy for Wells, even though Nolasco has only modest success this year -- a 4.08 ERA despite a 1.13 WHIP.
Wednesday, May 12th, 2010 - Tom Gorzelanny (1-4, 2.83 ERA) vs. Chris Volstad (3-2, 4.12 ERA)
If Gorzo gets his ass handed to him, it might be the final necessary blow to get Zambrano back in the rotation. Then again, Tom has been pretty hard-luck as of late and, based on his numbers, is probably a more deserving candidate to stay in the rotation than a luckier pitcher like Carlos Silva. Regardless, this game will be a big one for him.
Chris Volstad is 23 years old, went 9-13 last season, and looks to be on pace to do a lot better this year. But it's early, he's young, and the Cubs just might crush him.

Conclusions
Lordy, I hope the Cubs sweep. Realistically, Chicago has been just about totally hit and miss this year, and they are overdue to do some hitting.
One other note -- as I mentioned, I probably won't be around for a day or two while we switch internet providers. Consequently, I would like to jump the gun and welcome Allen (known in the Reader Blogs as Sayers40) to the fold. As our new gaggle of writers falters and falls off (we've already lost Phil after only 3 posts), I've offered Allen the chance to step in and contribute as a Goat Rider. Here's to hoping he lasts longer, and does as good a job as he's done as a Goat Reader.
(Of course, he hasn't actually accepted my invite to join the team yet ... so, uh, I may be jumping the gun a bit...)
Buy Chicago sports tickets to games on the road and at Wrigley Field at Coast to Coast Tickets!