Game Recap: Brewers 12, Cubs 6 - the Quitting Continues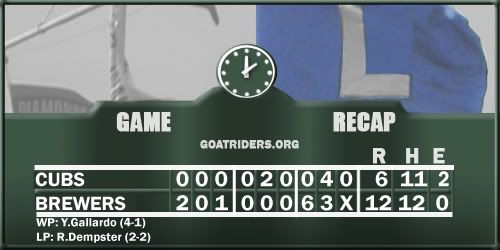 I truly love it when Cub fans quit on their team during every rough patch. Rather than beat around the bush, I will directly ask the question that needs to be asked:
What the hell is the matter with you people?
There has never been a team in the history of the game that didn't look like fumbling idiots at least once in a while during a long season. Even the 1906 Cubs - winners of 116 games - had a 2 and 4 stretch early in the season, went 1-4 between May 19th and May 24th and went 2-4 between July 19th and July 24th. And they won 116 games!!! They won more games than any other team in the history of baseball and over the collected span of close to a month of baseball they played like dirt. And if you don't have the stomach to watch a team lose games badly then go follow inter-murals, brother. You'll never experience joy from a baseball season because you're too high strung.
So, let's take a look at today's reason for why people are quitting the team.
Ryan Dempster. 17 game winner. Multi-millionaire. Bad luck pitcher who can't string together wins. Dempster pitched into the 7th today, which is good, he struck out 9, which is better, but he gave up 7 hits and 3 walks which is bad. Consequently he walked away with the loss. But the real story is the bullpen.
Here's the funny thing. I don't think the Cubs pen is actually all that bad. The problem is that they've got two or three guys who really don't belong there and aren't even the best choices to be there to begin with. Those three guys - Neal Cotts, Dave Patton, and Chad Fox, three guys who certainly will not be on the team by the time July rolls around - combined to surrender 6 earned runs. Had that not happened, then the Cubs would actually have had enough offense to possibly win the game.
I mean, really, the Cubs offense was there last night. They scored 6 runs off of 12 hits, including a 5 for 12 night from the 3 members of the Q4 who played. Every regular but Theriot collected at least one hit, and every regular but Soriano and Scales got on base at least twice. The offense was there. The bullpen was not.
So, here's the deal. If you think that pitchers like Chad Fox, Neal Cotts, and Dave Patton will still be around blowing leads into June and July, then you're right. The Cubs are doomed.
If you think that starters Milton Bradley, Geovany Soto, Mike Fontenot, and Derrek Lee will combine to bat below .200 all year long, then you're right. The Cubs won't reach the playoffs.
But since the Cubs won't be using relievers who suck all year long, and since the Q4 are in fact much better than their numbers convey, then I think we can agree that quitting on the Cubs is a pretty stupid take to have.
I've said this before and I'll say it now. If the players quit as easily as some of you do, then you would be outraged. You would be furious. I'm sad to see that some of you don't hold yourselves to the same standard that you'd hold the people actually playing the games.
Quick Links
Series Preview: Cubs at Brewers
Game Recap: Brewers 3, Cubs 2
GameCast: May 9th - Cubs vs. Brewers