Series Preview: Cubs at Milwaukee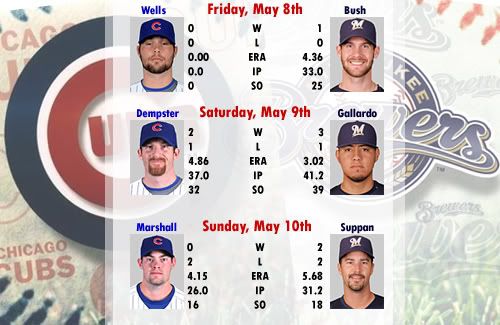 Overview
Who remembers where we were a week ago? Our beloved Cubs were 10-11 - practically in the basement - and people were panicking. "This isn't a winning team!" people lamented. "As built they can't possibly reach the playoffs!" they decried. "I believe that Mike Fontenot, Derrek Lee, Milton Bradley, and Geovany Soto will bat .175 all season long!" they blathered.
A week later, the Cubs have won 6 of their last 7, the Questionable Quartet have very slowly been picking up the pieces, and the 16-12 Cubs are 2.5 games out of first place. Then again, they won their games against the bottom-dwelling Astros and the Florida Marlins - the latter of whom are in the process of redefining the term "downward trend." The Brewers represent a different kind of challenge. We must ask ourselves some of the following essential questions:
Without Carlos Zambrano, do the Cubs have the fortitude to scale Prince Fielder's Cheeseburger Mountain - at the top of which is the legendary White Castle?
Will Kosuke Fukudome don a sausage costume - as did his forefather Hideo Nomo - and win one of the legendary races?
Will it be possible for the Cubs to finally figure out the mysterious northpaw Jeff Suppan? (Wait, you mean they hammered him harder than Thor earlier this season?)
Let's take a closer look at the match-ups...
Friday, May 8th - Randy Wells vs. Dave Bush
Since he's a rookie, you might not know a lot about Randy Wells. This is from his bio page: When he's not on the mound, Randy Wells spends his time participating in an amateur dance troupe. He has also finished in the Top 3 in more than 20 Kevin Federline look-alike contests. He briefly pitched in Toronto last year before coming to Chicago for a guy in a monkey suit. So far in Iowa this year, Wells is 3-0 with a 2.77 ERA. Hey, who knows, if he does half-decently then maybe he'll be the eventual bullpen solution the Cubs are so anxious to find?
Dave Bush is the quintessential 4th starter. On a good year he'll win you 12 games, get his ERA into the low 4's, and be absolutely unreliable in big game situations. In his first game against the Cubs this year he threw 6.1 innings of work, allowing 3 earned runs. This is a step up from his typical production against Milwaukee's biggest rival as from 2006-2008 Bush is 1-7 against Chicago with an ERA of 4.84. Hey, if the Cubs are lucky enough to face off against him 3 more times this year they might be able to get that record to 1 and 10! It would be an amazement of ineptitude!
Saturday, May 9th - Ryan Dempster vs. Yovani Gollardo
Ryan Dempster - The Good: 32 strikeouts in 37 innings pitched. The Bad: 1.35 WHIP, thanks to the 34 hits and 16 walks he's allowed this year (note: a 1.35 WHIP isn't really that bad). The Ugly: 20 earned runs for an ERA of 4.86. At this point, Dempster's run-to-hit ratio is .540, and his run-to-hit+walk ratio is .400. Last year when he won 17 games and posted an ERA of 2.96, it was .390 and .340.
At this point the amount of hits+walks he's on pace to surrender (190 and 89 respectively) isn't really that much worse from 2008 (174 and 76). I suppose it makes sense that Dempster is bound to have a higher ERA but so far his biggest problem is that he's issued walks and given up hits at really inopportune times. We can probably call it the statistical equivalent of "unlucky" while hoping for things to balance out a bit. If he finishes the year having surrendered 190 hits and 89 walks in 207 innings at last year's run-to-hit ratio, then his ERA would be 3.22. (And based on the run-to-hit+walk ratio, it would be 4.12 - still a lot lower than 4.86).
Yovani Gollardo is Mexican for "we hope he's this year's Sabathia, gringo." So far the 23-year-old is 3-1 with a 3.02 ERA and is on pace for 218 strikeouts in 229 innings of work. Considering that he's 23, he's bound to come down a bit. Then again, he's thrown 176 career innings now and has a record of 12-6 and an ERA of 3.27. Gollardo is the real - albiet probably unable to pass a phsyical - deal.
Sunday, May 10th - Sean Marshall vs. Jeff Suppan
Marshall has been "hard luck" so far. His numbers haven't been bad - and were actually inflated in his last start by a terrible Samardzija relief outing - but he's just not been lucky enough to get a win. Considering the book I wrote on Dempster, this is all you get. NO BLOG FOR YOU!!!
Jeff Suppan. A 34-year-old crafty right-handed starter who's been in the league since 1995. As a Cardinal he won 16 games back-to-back, as a Brewer he's a borderline gas can who the Cubs probably can't get enough of. In his first outing against Chicago this year, Suppan went 3.2 innings, surrendered 5 earned runs, and wept tears of remorse into his calloused hands after the Cubs chased him in the 4th. Over the previous 3 years, Suppan is 3-3 with an ERA of 4.24. In other words he's "adequate" against the Cubs, but not stellar.
Conclusions
As hot as the Cubs have been playing of late, the Brewers have been on their on little run. Since starting the year 4-9, Milwaukee is 12-4, and they sit barely behind the Cubs in the standings. In other words, unlike the series against the flopping Marlins and the crash-and-burned Astros this series will actually be a challenge to the Cubs. While Wells is a mystery, Dempster has been unlucky and Marshall is due. Not to mention the Brewers rotation is not exactly likely to lead the league in shutouts this year. At the very least this will be a high scoring series that will leave Ron Santo groaning. At the most it could be another step in the right direction for the Cubs.

Tip for Purchasing Tickets Online
Most online brokers and marketplaces in the secondary market charge a service fee during checkout regardless of what you are purchasing, such as Chicago Cubs tickets or anything else. Typically you can walk through the first few steps of checkout to find out if there will be any additional charges.. From your friends at Neco.com, the home of transparent pricing.