Game Recap: Brewers 3, Cubs 2, Rammy out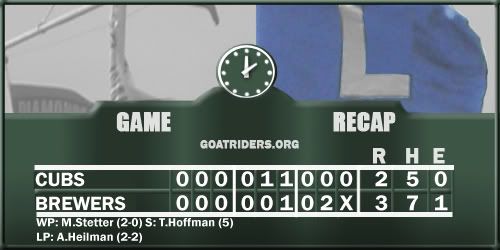 The Good News
Randy Wells delivered 5 innings of scoreless baseball in his debut start. He managed to shake off 5 hits, 2 walks, and 3 trailer-park skanks in the process (did I mention how much he looks like Kevin Federline?). Regrettably for him, the Cubs bullpen will not be mentioned under "The Good News" heading.
In a pinch hit appearance, Bobby Scales! collected his second ever major league hit - a triple. Considering all the hub-bub with the Rammy shoulder injury, the performance made by Scales today and in the near future might have a pretty big impact on the Cubs.
Milton Bradley went 1 for 4, raising his AVG to .150. (Pretty bad that a 1 for 4 day raises your batting average.) But the 1 was his 3rd homer as a Cub.
The Bad News
Angel Guzman and Aaron Heilman pitched 3 innings of relief and surrendered 3 earned runs in the process. I'm not too upset with Angel, who also struck out 4 and made one mistake, but Aaron Heilman walked Hart, advanced him to second with a wild pitch, and made it a moot point by surrendering a homer to Ryan Braun. Not a good night for Heilman.

The Ugly News
Aramis Ramirez, as you are already aware, dislocated his shoulder and may miss 4 to 6 weeks. I will remind you that last season the 97-win Cubs lost one of their best hitters for more than a month due to a broken hand and they still won 97 games. Just saying.
A-Ram's injury comes hot on the heels of the acquisition of Ryan Freel from Baltimore. Freel, as Rob eloquently noted, is really a guy you want on your team ... if you live in the year 2005. (In case you don't get it, that's a clever way of saying that he has lost some of his shine.) They amazingly acquired Freel for Joey Gathright, which makes no sense since Mr. G. was probably a week away from getting cut.
Freel is a guy who plays a lot of positions - he's logged more than 100 appearances (many of them starts) at second base, third base, center field, right field, and he's appeared in left field 75 times. When the 33-year-old is performing well, he's a patient-but-not-spectacular hitter who can steal a lot of bases. But with a career OPS of .731, he's the kind of guy who, like Theriot, bats leadoff or bats eighth and belongs nowhere in between.
With Ramirez missing a big chunk of time, this leaves the Cubs roster in a continued state of flux. Bobby Scales(!) was probably going to get demoted once Freel joined the team, but with Gathright gone and Ramirez hurt, Scales* will probably remain on the big league roster.
(*!)
This leaves the Cubs still with their precious 7 man bullpen, and Wells pitched solidly enough to not only continue starting until Zambrano returns, but to be the first candidate to replace the inept Chad Fox at that point. Although, obviously, Wells will still have time to look like crap.
Anyway, I know that the natural reaction of any Cub fan is to immediately panic when something like this happens, but as I noted back in Spring Training the Cubs were built with depth this year. I'm not exactly challenging them to prove me right, but they could probably actually handle a few more injuries to their regulars before we should start getting nervous. But one thing this does mean is that there should now be slightly more pressure on the shoulders of Soto, Lee, and Bradley to start producing. If they can do that, then they'll be fine.
Quick Links
Series Preview: Cubs at Brewers
GameCast: May 8th Cubs at Brewers