Series Preview: Chicago Cubs at Cincinatti Reds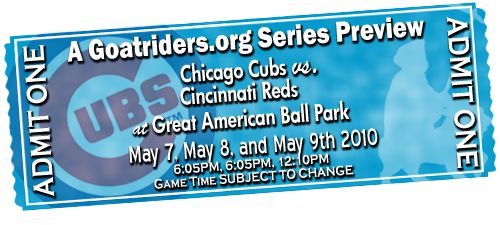 Overview:
The Cubs hit a rough skid (well, they didn't really hit anything) in Pittsburgh and are looking to right the ship against the Reds at Great American Ballpark. In an attempt to provide a spark to what has been a lackluster offense, the Cubs called up uber prospect Starlin Castro to take his rightful place at shortstop. Accordingly, the Cubs demoted the Ginger One, Chad Tracy, to AAA. Castro had a .376/.421/.569 line in AA Tennessee and had 4 SB (5 CS) on the year.
In short, this move seems pretty desperate. At this day, May 7, the Cubs are 3 games under .500 at 13-16. It feels worse because the team just got swept by the Pirates at PNC. The team is looking for a "kick start" to get them out of the slump. This really isn't the first time the Cubs have made this play. You only have to look back to 2007 when the Cubs were in a very similar situation: a middling team that lacked drive and inspiration. In June of that year, the Cubs made a drastic move and traded what most of us thought was the franchise catcher in an attempt to bring on some chemistry and light a fire under everyone.
Similarly, in 2007 lots of fans were ready to write the team off by the end of May. The team was seven games under .500 and weren't playing up to the talent level most fans expected of them. Eventually, the team got hot in the Dog Days of Summer and went on to win the division.
Ladies and Gents, so far the season hasn't gone the way we'd all hoped, but the situation isn't dire. There's a lot of ball to play, and hopefully this move can work as the spark the front office believes it could be.
Now, onto the matchups.
Friday, May 7: Carlos Silva (2-0, 2.90) vs. Homer Bailey (0-1, 6.04)
Bailey and the Cubs are familiar with each other as they met in the first Cubs/Reds series of the season. In that game, Bailey went five innings and struck out five while giving up 3 earned runs. Perhaps fitting to his name, Homer is a flyball pitcher that relies on a plus fastball and a very nice 12-to-6 curve. When he is able to keep the ball down in the zone, he can be at times unhittable. However, he has struggled with consistency and frequently leaves his curveball and mediocre changeup up in the zone, which can lead to some long home run balls. The best way to get to Bailey is to wait him out and not fall behind in a count so he can utilize his curve.
Silva is coming off the worst start of his Cubs career. Speaking of keeping the ball down, Carlos left his sinker in the middle of the zone in his last start and allowed Arizona's lineup to take advantage of the gale force wind blowing out to the tune of 3 HR. Silva's start was supposed to be pushed back because of a barking right wrist, but the trainer reports came back and he seems to be feeling well enough to toe the rubber tonight. Which Silva will show up will be the main thing to watch for.
Saturday, May 8: Tom Gorzelanny (1-3, 2.48) vs. Aaron Harang (1-4, 6.68)
I know this point has been brought up countless times, but ever since Dusty made Harang run out in an extra innings game on minimal rest a few seasons ago, Harang really hasn't been right. Regardless, he still always seems to have the Cubs' number. In his last start against the Cubs, Harang went seven innings and only allowed three earned runs while striking out seven. His most recent start was a quality start against the Cardinals, but he took the loss in a duel against Chris Carpenter of the Cardinals. He's going to try hard to get ahead in the count by being aggresive with his fastball and then use his junker stuff to get hitters to chase out of the zone. Sadly, this is a pretty good plan of success against an aggressive Cubs team.
Gorz got his first win of the season in his last outing against the Dbacks and set a career high 10 strikeouts in the game. Posting three quality starts in his last five starts, Gorz has been a great asset to the Cubs pitching staff. Another note of interest is that Gorz and Maddux constantly text/call each other to break down each start Gorz makes and how he can improve upon it. Hopefully Maddux gave Tommy some good advice this time around and he continues to build upon his strong start.
Sunday, May 9: Ryan Dempster (2-2, 2.95) vs. Mike Leake (2-0, 2.94)
Leake has turned in four quality starts in his last five outings. He turned in a decent performance the first time around against the Cubs where he only gave up one run in 6.2 innings. The big knock on him was the seven walks he gave up in that game as well. After giving up five walks in his start after facing the Cubs, Leake has limited his walks in his last 3 starts (2 being the max number). Leake really doesn't have dominant stuff, but has above average command of all of his pitches. He will go as far as his control lets him.
Dempster was the latest casualty of no run support in Pittsburgh in his last outing. Clownsevelt went seven innings and allowed only 3 ER, two of those runs coming by way of the homerun ball. The Cubs stranded 11 men on base in his last start, so hopefully that trend can change in the fortuitous hitters paradise that is Great American Ballpark.
Conclusion
The Cubs should take 2/3 in this series. I expect the team to wake up from it's haze with the moves made today and show some signs of life and rededication. If they turn in another performance like in Pittsburgh, then this team may have a longer and harder road to recovery than I imagined.
Check trustworthy Cubs ticket broker Coast to Coast Tickets for World Baseball Classic tickets and more!