Game & Series Recap - Cubs 11 (2) Astros 5 (0)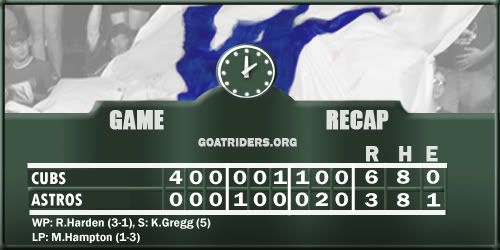 The Cubs get the cheap sweep -- with authority!
It wasn't as close as the final score indicated. Ted Lilly and the Cubs did exactly what we thought they would - beat on Russ Ortiz with a Brick the way an Army drill sargeant might beat on a recruit. That's right, the Cubs were Rocking the Suburbs, and the suburbs happened to be the baseball when pitched by Russ Ortiz. Ortiz's undefeated record was forced to Evaporate, and that's the last Ben Folds reference I'll make this article. Although I will point out that the last "hit" by Folds was the song "You Don't Know Me" which eventually landed on #28 of the Adult Alternative chart. Just saying.
Regardless, the Cubs managed 14 hits yesterday along with 5 walks. Every regular starter but Fontenot got at least one hit (and Mikey still managed 2 RBI) with Alfonso Soriano hitting 2 homeruns and making one awesome glove save in the outfield. The Fonz now has 9 homers and, should he manage to avoid the freak injuries that derailed him in '07 and '08, may finally be on the brink of the kind of season he was signed to produce.
Theodore Roosevelt Lilly pitched 6 innings, winning his 4th of the year and reducing his ERA to 3.11. The Cubs bullpen then delivered scoreless relief, not counting Chad Fox whose 2009 ERA is now 81.00. For the record, when all future discussions of the bullpen are made, Chad Fox will not count as being a member of the pen regardless of his status on the roster.
It appears as if the Cubs are finally - FINALLY - starting to click. They've won 6 of their last 7 and enter tonight's series against Milwaukee with the chance to gain some distance from the rest of the division, the Cardinals excluded.
The planned article about Marmol and Gregg remains pending, but I'll get to it eventually.
Current Record: 16-12
Position in the NL Central: 2nd place, 2.5 games out of first
Best Possible Record: 150-12
Worst Possible Record: 16-146
Record needed to win 110: 94-40
On Pace For: 93-69
Quick Links

Series Preview: Cubs at Astros
Game Recap: Cubs 6, Astros 3
GameCast: May 7th Cubs at Astros