Game Recap: Cubs 6, Astros 3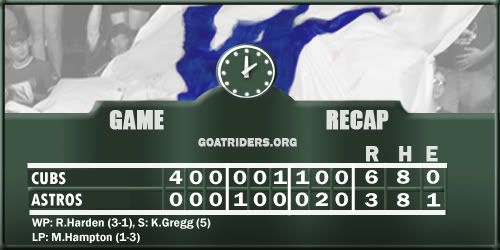 It's odd, but I've read multiple recaps about the game and nowhere have I seen a mention of the passed balls capitalized on by the Cubs.
Regardless, Reed Johnson's big day was emphasized by scoring not once but twice on passed balls. But probably more impressive was Reed's 3-run triple in the 1st inning and Aramis Ramirez's homerun in the 7th, giving the Cubs all the offense they'd need to beat a putrid Astros team.
On the mound Rich Harden pitched 7 splendid innings of 1-run ball; unfortunately Lou elected to dip from the well once too often and left Harden in there to be hammered in the 8th. But then Carlos Marmol and Kevin Gregg - both of whom will be the subject of an afternoon post if I can remember it - stepped in and closed out the game for a Cubs win.
Overall the Cubs collected 8 hits and 4 walks, and the only two members of the Questionable Quartet to start today - Bradley and Soto - combined to go 1 for 8 with a walk and 2 runs scored. Not exactly splendid by any means.
Talent In, Garbage Out
Although we Cub fans appear to be brimming with common sense, Hendrinella did not release Neal Cotts yesterday and designate Angel Guzman as the defacto LOOGY, but they did smartly demote the struggling Jeff Samardzija while promoting an Iowan Fox - only not the right one for the job.
Chad Fox - rather than the ball-crushing Jake Fox - has been called up. Fox apparently enjoys the taste of pain, otherwise he'd be retired by now. Presently in 11.1 innings of Iowan work he has an ERA of 1.59, but I ask again - why do the Cubs need 7 relievers?
The other Fox presently has a .393 AVG in 89 at bats along with 12 homeruns. And did we mention that before this season he's played 274 games at catcher, 119 games at first, 4 games at third, and 99 games in the outfield? Isn't that kind of versatility valuable?
Cubs play for the mini-sweep today.
Quick Links
Series Preview: Cubs at Astros
Game Cast: May 6th Cubs at Astros