Game Recap: Cubs 4, Giants 2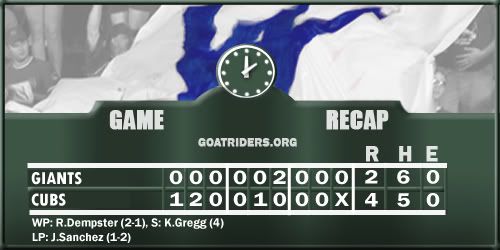 Zambrano to miss time
Those of you who bet on "Carlos Zambrano" to be the first Cub to go to the DL, collect your money. But hold off if you thought it would be due to arm issues - nope, our Big Moose hurt himself while trying to beat out a bunt single, that effin' lunatic.
Consequently the Cubs are promoting BOBBY SCALES! to replace him on the active roster which is good on a number of levels - most of them pertaining to Bobby playing the left side of the infield and being the modern day Crash Davis. The only problem is that the Cubs don't have an immediate replacement for Z. in the rotation and a quick look at the schedule shows that they sort of need one by Friday.
ESPN has the Cubs scheduled to turn to Randy Wells on Friday, the only problem being that he's not, y'know, technically on the ML roster yet. So either Scales's trip to Chicago will be a very short one or somebody else - Dave Patton, Joey Gathright - is playing with an expiration date.
(Actually this may be a clever way to get around 25-man roster limitations. My understanding of the rules is that you can promote/demote players as often as deemed necessary and it only counts once toward a notch against their service time. The Cubs could travel with Scales and Wells, promoting Wells every 5th day while demoting Scales, only to re-promote Scales immediately after Wells finishes his start. I'm sure there's something in the rules which prevents ambitious GM's/managers from doing that, though.)
Game Recap
I really think Ryan Dempster has been hard-luck this year, just in a different-than-usual sort of way. Typically "hard-luck" reflects losing low-scoring games, but what's happened to Dempster is that his WHIP hasn't been horrible, but it seems that any time he gives up a walk or allows a hit it bites him in his ass. But last night he had his best outing of the year against a Giants offense best known for sucking.
Dempster threw 7 innings, allowing 5 hits, 2 walks, and 2 runs while striking out 7. Cubs ace relievers Carlos Marmol and Kevin Gregg combined for 2 innings of relief, allowing 1 hit, 1 walk, and striking out 4 between them.
Offensively it was a "passable" day for the Questionable Quartet - 3 of whom played. Bradley, Lee, and Soto combined to go 2 for 7 with 4 walks, 3 of which came from D.Lee. But more impressively, Juice Theriot went yard -- again.
I know that we're not supposed to look gift horses in the mouth, but Ryan Theriot? 3 homeruns in under a week? What the hell?!! Seriously! What the hell!
Nevertheless, the Cubs are now 14-11 and have won 4 straight. Consistency, ladies and gentleman. Consistency!
They play for the mini-sweep tonight.
The Zambran-0-Meter
Incidentally, the Zambran-0-Meter is updated and ready to go on my computer back home. I would have uploaded it last night or this morning, but I have a strict policy of cruelty when it comes to responding to loyal readers who act as if they are entitled. It's nothing personal.
Quick Links
Series Preview: Giants vs. Cubs
GameCast: May 4th, Giants vs. Cubs