Series Recap: Cubs 3, Marlins 1
A big thanks to Yarbage for kindly covering for me while I was away. Naturally the Cubs took advantage of my absence by playing some of their best baseball this season. I'm not going to take a deep look into things because that would be redundant, but I'll give a few quick spins on the games played this weekend.
Game One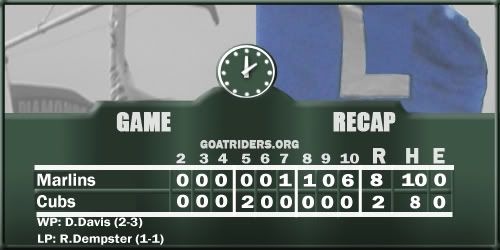 Cubs lose, yadda yadda, season over, etc. etc., more of the same old tailspin rhetoric that feeds so much content into this blog.
Game Two


Ryan Theriot. I told my best buddy - not a Cubs fan - about the unlikelihood of Theriot's granny and his response was this:
If you look up "due" in the dictionary, they've got a picture of Ryan Theriot hitting that grand slam below the definition. Probably my favorite part of this game was that the Cubs were down at various points by a lot of runs. They were down 3-0 when they scored their first run of the game, and were down 5-1 when they went on their rampage, scoring 7 times before the Marlins were able to tack on a garbage run in the 9th.
Impressive events of this game - Theriot's granny, and Lee, Soto, and Fontenot - three of the now-legendary Questionable Quartet - combined for 2 hits each and went 6 for 10. The team as a whole also drew 5 more walks, and while Rich Harden was chased the Succeptible Seven - also known as the bullpen - allowed only 1 earned run in 5.1 innings of work. Cudos to Neal Cotts for almost succeeding in facing the minimum.
Game Three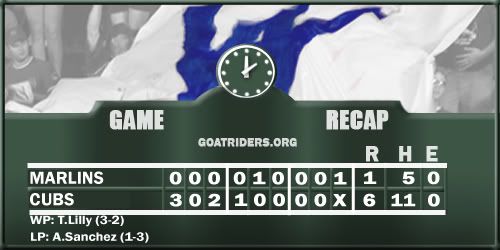 Speaking of due, Ryan Theriot apparently decided that he likes the taste of the longball and hadn't had enough. So, he hit his second homerun in as many days - doubling his total for last year - leading the way to an easy romp in Game Three. Wherever he's vanished to, Pseudo-Goat Rider Colin must be scratching his head over the sheer improbability of Theriot's offensive outburst. (Consequently, we at GROTA will now refer to Theriot as "Juice" for obvious reasons.)
Every playing member of the Questionable Quartet got hits in this game as well, including Derrek who went yard. The offense drew 5 additional walks, and Ted Lilly (who also hit a double) went 8 innings, striking out 10, and taking the lead for the title of Most Reliable Pitcher on the staff. Oh, and Aaron Heilman struck out all 3 batters he faced in the 9th. He's turning out to be shockingly good.
Game Four


And finally we have the decisive game. On the plus side, Carlos Zambrano threw 5 innings of decent baseball before - on the down side - exiting with a sore hammy. The Cubs are apparently going to shut him down, but I haven't read anywhere if he'll be taking a trip to the DL or just having a turn skipped in the rotation.
Regardless, the Cubs collected 6 runs from 9 hits and a Bakeresque 0 walks, including homeruns from two members of the Questionable Quartet - Derrek Lee and Mike Fontenot. In this series, Fontenot's seen his AVG go from being around .230 to .266, and he now has 5 homeruns on the season. Not bad for a guy who some of our readers had given up on after about a week into the season.
Conclusions
The Cubs did what they needed to do - they beat the crap out of a first place team who I happen to hate with a hot, fiery passion. Again a big thanks to Chris for covering for me while I was away
Maybe the Cubs will build on this play and hammer away at the Giants tonight. After a week or so of harping about consistency, though, it's nice to see 3 games won by 6 runs or more in which different players contributed every night toward the offensive barrage. That's what good teams do. That's what the Cubs will do this year.
Current Record: 13-11
Position in the NL Central: 2nd place, 3.5 games out of first
Best Possible Record: 151-11
Worst Possible Record: 13-149
Record needed to win 110: 97-41
On Pace For: 88-74
Quick Links
Series Preview: Marlins at Cubs
Game Recap: Marlins 8, Cubs 2
Game Recap: Cubs 8, Marlins 6
Game Recap: Cubs 6, Marlins 1
Game Recap: Cubs 6, Marlins 4
P.S. The Carlos Zambran-0-Meter desperately needs to be updated. It's at the very top of my to do list when I get home from work tonight. Apologies for those who enjoy seeing the meter rise.