Series Preview: Chicago Cubs vs. Arizona Diamondbacks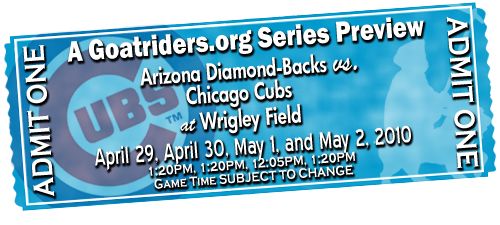 Overview
After a feeling of optimism in the last Series Preview, the Cubs have once again knocked my optimism down a rung by dropping a series to the Nationals. The Cubs now welcome to the friendly confines of Wrigley Field the Diamondbacks (10-11) and their ability to crush the dreams of Cub Nation (See: 2007). The Dbacks have won their past two series (PHI, @COL) and look to keep that streak alive on the road, where they are 3-6 on the season so far. Hopefully the Cubs will help continue the Dbacks road woes during the four-game series.
It may not hurt that since the Arizona State Legislature passed immigration reform for the state that the Diamondbacks have been under a lot of pressure. However illogical the protests may be, I hope it keeps the Dbacks off their game and helps the Cubs get back to .500.
How's it all going to play out? Well, it's complicated...
Thursday, April 29- Theodore Roosevelt Lilly (1-0, 0.00) vs. Ian "Not John F." Kennedy (0-1, 4.43)
Ian Kennedy was once the diamond of the New York Yankees minor league system, but like almost all prospects in that farm system, was traded away for a veteran. In the case of Kennedy, he was part of the three-team trade that netted the Yankees Curtis Granderson. Kennedy only pitched once in 2009 because an anuerysm near his right shoulder put him under the knife. Kennedy has a 4-seamer that clocks in around 90-92, a plus changeup, a tight curve, and spent the offseason working on a 2-seamer. He has only allowed 2 earned runs over his last two appearances, and seems to be figuring things out.
His opponent is the Bullmoose. Lilly came off the disabled list on Saturday in Milwaukee and threw six shutout innings. Over the start he allowed only three hits. Lilly only threw 78 pitches in the game but was pulled after his back tightened up. Hopefully that was just a precaution and isn't an ongoing issue. Lord knows our bullpen doesn't need anymore of a workload than it already has.
Cubs win this one. If I've learned anything in life, it's don't bet against Teddy. More importantly, don't bet against Lilly if he's on the mound after the Cubs lose two games in a row.
Friday, April 30- Randy Wells (2-0, 2.49) vs. Rodrigo Lopez (1-0, 4.88)
Lopez is a journeyman pitcher that always seems to have a resurgence just when you think he's done. This year appeared to be one of those resurgance years as Lopez turned his minor league invite to the Dbacks camp into a spot in the starting rotation. After putting up a good start his first time out (6 IP, 1 ER against PIT) he was hit hard in two of his next three starts. That being said, Lopez is one of those guys that goes out and just eats innings, no matter what. He is a four pitch pitcher that has a high 80s fastball that is complimented by a cutter, a slider and a change. However, at this point in his career he gets by on guile more than anything.
Randy Wells is coming off of another solid start. Against the Brewers on Sunday Wells allowed two runs in seven innings and didn't walk a batter. There isn't a whole lot that hasn't been already said about this kid and I don't feel its appropriate to go on a rant about my mancrush for him in this space. Wells looks to keep his strong start to the season going and shut down what has been a potent, at times, Dbacks lineup.
Despite the fact that guys like Lopez usually dominate a "good" Cubs lineup (not the punchless one we are trotting out right now), I'm leaning towards a Dbacks win... but for the sake of it, I'll say Cubs are 2-0 after Friday (Randy is just too good).
Saturday, May 1- Carlos Silva (2-0, 1.73) vs. Mystery Pitcher X (0-0, INF!!!)
Kris Benson was injured last night in his first start for the Dbacks, so the club is looking to call someone up to take his rotation spot. Until that happens, the Dbacks rotation appears to be in a shuffle. Sadly this means the Cubs might have to face Danny Haren on Saturday or Sunday.
Silva is coming off his "worst" outing of the season which was still a quality start. Silva went 7 innings and allowed 3 ER against the Nationals. It is only a small sample size of four starts, but Silva has done a damn fine job in the rotation. I expect his numbers to eventually even out a bit, but deep down I'm hoping he's turned over a new leaf and doesn't regress completely to his career mean. Regardless, Saturday is May Day, so bring your friend Carlos Silva a bouquet of flowers. Yes, that just happened.
No prediction because I don't know who he's facing.
Sunday, May 2- Tommy Gorzelanny (0-3, 2.45) vs. Another Mystery Pitcher (0-0, ?)
Again, the pitcher here could very well be Haren or Edwin Jackson, but I'm not going to speculate any further until I see something more official on MLB.com in the "probables" section.
Tom Gorzelanny is the Randy Wells of 2010. I don't know what he did and to whom, but the whole team refuses to give him run support any time he is on the mound. The only way to make his losses any less painful than they are is if we could revive Harry Carey and at least listen to the man butcher Tom's name. In Gorz's last outing he went seven innings and allowed only two runs. A quality start from a Cubs pitcher? Again? I know, it's a shocker. Hopefully the team can actually get him some run support and beat the current streak.
Tenatively, I predict the Cubs win (more out of pity for Tom, than anything).
Conclusion
It would be nice to see the Cubs at .500 after this series by going 3-1. I mean, eventually the Cubs have to win a series against someone other than the Brewers, right? Why not now?
Shop for discount sports tickets -- including White Sox tickets online -- at Coast to Coast Tickets!