Game Recap: Dbacks 13, Cubs 5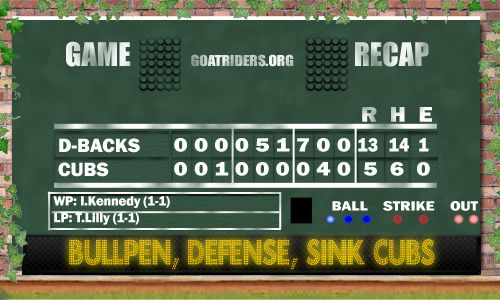 Different story, same result. Ted Lilly decided today that the streak of good starts from Cubs starting pitching should end. Combine that with an anemic Cubs offense and the end result is just as bad as you might expect. Even more depressing, the loss guaranteed the Cubs will finish under .500 for the month. And here I thought this was a "cupcake" month.
With the wind blowing hard out to left field today, it was clear even before the game that Lilly's tendency to induce fly balls could be trouble. Throw in a few untimely walks and combine it with some very hittable stuff, and you have a recipe for disaster. Lilly missed the strike zone a lot today, and when he was in it he was usually throwing belt-high stuff. When you leave hittable stuff over the plate even Adam LaRoche, a terrible April hitter over his career, can make an exception to his career trends and join in on the hit parade. The book was closed on Lilly after five innings and after he gave up six runs on seven hits. It is interesting to note that this was the highest total of runs allowed by Cubs starter since Z's opening day start against the Braves.
The only thing that wasn't too shocking in today's game was the absence of a 3 and 4 hitter in the Cubs lineup. The 3 and 4 spots went a combined 1 for 8 on the day with two strikeouts... and sadly that's one of the more productive days this season. Theriot was the only Cubs player to get more than one hit on the day. At least Fukudome continued his torrid start with an 8th inning grand slam off of Ian Kennedy. On the month, Kosuke is batting .328 with 4 home runs and 15 RBI. It would be great if Kosuke could maintain his April numbers throughout the whole season.
To add insult to his prolonged slump, A-Ram added another error to his resume in what turned out to be a seven-run seventh inning. The Cubs just played terrible baseball today on all fronts. Nothing more can be said. Tomorrow is another day, and hopefully the Cubs will take advantage.