Game Recap: Nationals 3, Cubs 1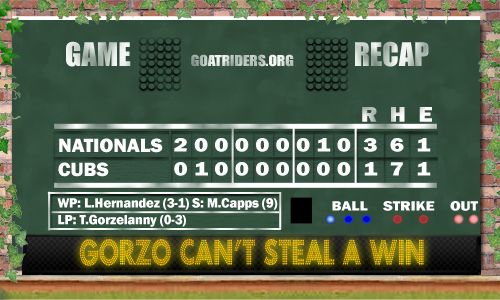 So much for a five game winning streak. Given the run support the Cubs have given Gorzo, after the Nats put up two in the top of the first inning, the book should have been closed on the game.
In what is becoming a familiar story, another Cubs starter had a quality start. Gorzo went seven strong innings while allowing only two runs on five hits. Despite the quality start, Gorzo dropped to 0-3 on the season. It seems like the Randy Wells Award for No Run Support has been passed on to Tommy. In four starts this season, Gorzo has only given up 6 earned runs total over 22 IP (a 2.45 ERA) and hasn't allowed more than 2 runs in any of his starts. Over those four starts, he has gotten a total of 9 runs in support. Granted, the bullpen has had a bit of say in his losses as well. Welcome to Chicago, Tommy.
Speaking of the bullpen, Gorz's trade-mate John Grabow entered the game in the 8th and gave the Wrigley faithful a taste of just how much fans will come to regret the gaudy contract he signed this offseason. Grabow came into the 8th and immediately had a throwing error trying to get Nyjer Morgan out on what would have been a bang bang play. Morgan then stole second and scored on an Ian Desmond RBI single. I pray for the day where Grabow has a clean inning.
Despite the lack of offense tonight, Soriano and Soto continued on the path to redemption by getting hits tonight. Once again, notably lacking from the world of productive hitting were offensive centerpieces Derrek Lee and A-Ram. Lee seems to be hitting the ball solidly as of late and this was evidenced tonight by the hard line drive he hit to left field that Willingham just barely caught on the run. Ramirez, on the other hand, just seems lost. In the 8th, A-Ram stepped up to the plate with men on second and third and two out and didn't come through in the clutch once again. Perhaps this is a bit of a harsh expectation, but Ramirez has been very successful in those situations in the past. This year it just seems that he isn't executing in those situations. All in all, the Cubs went 0-8 with men in scoring position and stranded eight men on base.
I don't know what it is, but Livan always seems to have the Cubs number. Plus, he has just been in a zone so far this year. Regardless, I expect the team to rebound tomorrow and get the series win with Dempster toeing the rubber.