Series Preview: Chicago Cubs vs. Washington Nationals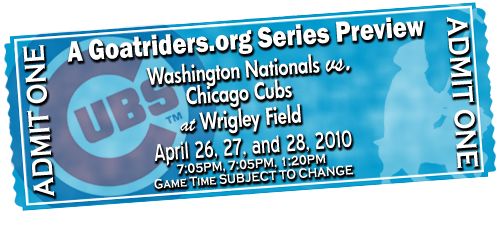 Overview
Hot on the heels of a road series sweep, the Cubs return to the friendly confines where they take on the only team in baseball that makes the Brewers look good: the Washington Nationals.* Except the Nationals aren't so bad just now. They're 10-9, only 1.5 games behind the defending National League champion Phillies.
(*known in some circles as the Modern Day 1950's Chicago Cubs)
Nevertheless, the Nats have been treading water since April 17th, which was when they lost the ability to put together two consecutive wins -- or losses. And they've been at home for the duration of their streak of mediocrity. That's good news for the Cubs.
Let's take a look at how this will all play out...
Monday, April 26th - Carlos Silva (2-0, 0.95 ERA) vs. John Lannan (1-1, 5.82 ERA)
John Lannan is a soft-tossing lefty* who has a career ERA of 4.01, but is 10 games under .500 since he first threw a baseball in a major league park. (The perils of pitching for the Nationals.)
His opponent is Carlos Silva, a fat, angry, obnoxious Venezuelan man who has convinced many fans to conveniently forget the "small sample size" mantra with his outstanding start. So let's see if I've got it right ... soft-tossing lefty faces Cub pitcher who's off to a ridiculously good start?
Crap. 0-1 for Chicago.
(*I write this confidently, not based on my detailed knowledge of his pitching velocity, but because the dude struck out 89 batters in 206.1 innings last year)

Tuesday, April 27th - Tom Gorzelanny (0-2, 2.40 ERA) vs. Livan Hernandez (2-1, 0.75 ERA)
Tom Gorzelanny is a soft-tossing lefty who's actually managed almost a K an inning so far this season. But because he pitches for the offensively challenged Chicago Cubs, despite his admirable start, Gorzo is winless.
His opponent is Livan Hernandez, an ancient, fat Cuban pitcher who is the perfect example of a "small sample size," what with his amazing start to the '10 season. (Although, concernedly, he's got 7 walks and only 9 strikeouts in 24 innings.) Therefore, because Gorzo is due and Livan is overdue...
1-1 for Chicago.
Wednesday, April 28th - Ryan Dempster (2-0, 2.60 ERA) vs. Luis Atilano (1-0, 1.50 ERA)
The debate rages on -- should Ryan Dempster be called "Clownsevelt" or something that makes slightly more sense to the layman? Here's my stump for the preferred "Clownsevelt" moniker -- over the past few years, he has regularly pitched immediately before, or directly after, Ted Lilly. Lilly's full name is "Theodore Roosevelt Lilly." Roosevelt. Clownsevelt. C'mon! It's perfect!
Anyway, the Cubs will be sending in the clown to take on rookie pitcher Luis Atilano, who defied the odds and won his major league debut by pitching 6 solid innings of 5-hit, 2-walk baseball. In other words ... Dempster vs. A Rookie Who's Not a Lefty?
Tres win. 2-1 for Chicago.
Conclusions
Theoretically, the Cubs are better than 9-10, and the Nationals are worse than 10-9. Therefore, this series should end with both teams having an 11-11 record! Book it!
Shop for discount sports tickets at Coast to Coast Tickets, your reliable Chicago Cubs ticket broker!