Series Preview: Chicago Cubs at Milwaukee Brewers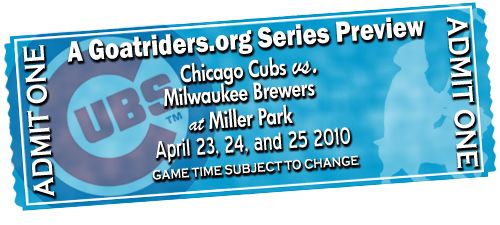 Overview
It was about a week ago when pundits and fans alike were sticking a shiny fork in the Houston Astros. Everybody agreed -- Houston was a terrible, miserable team, and, with only 1 win against 9 losses, they weren't reaching the playoffs in 2010.
The Chicago Cubs are presently 6-10, only a half game better than the 5-10 Astros. Does that mean, logically, that the Cubs are half a game away from being done for in 2010 as well?
They sure as hell are playing like it. The Cubs are scoring runs in trickles, they are giving them up in droves, and most concerning of all: they have put their most expensive, most unpredictable, most talented starter in the bullpen due to their dire need for a righty reliever.
Actually, that whole mess in the bullpen led me to recently speculate that maybe the Cubs should have gone with a six man rotation, instead. Here's the logic: starters would be getting an extra day of rest, meaning they'd be able to go longer in games. In a six man rotation, it wouldn't matter if Carlos Zambrano needed 130 pitches to get through 7 innings -- and, not having a Carlos Zambrano to bridge the gap between Carlos Zambrano and Carlos Zambrano's most trusted closer, Carlos Zambra--er, Marmol, would not have been so big a deal.
Think about it. A six man rotation. Just slightly less crazy than moving the Big Moose to the bullpen, but still crazy enough to reek of desperation. Anyway, on with the preview:
Friday, April 23rd, 7:10PM - Ryan Dempster (1-0, 3.15 ERA) vs. Jeff Suppan (0-0, 7.20 ERA)
Jeff Suppan is the gift that keeps on giving. He's not a particularly effective pitcher, which means the bumbling Cubs offense might stand a chance.
Ryan Dempster, meanwhile, has 22 strikeouts to 8 walks in 20 innings of work. He has been, shockingly, a pretty good-ass pitcher.
Saturday, April 24th, 6:10PM - Ted Lilly (0-0, -.-- ERA) vs. Doug Davis (0-1, 11.25 ERA)
Davis, used to be known as the Dragon Slayer due to his ability to out-duel better pitchers. These days, he might now be known as the Dragon Chaser due to the how likely he is to cause Brewer fans to consume massive amounts of drugs in order for them to get through watching one of his starts.
He'll be facing Ted Lilly, in Ted's 2010 debut. Enjoy these Lilly starts while they last -- if the Cubs are 12-20 in a few weeks, Roosevelt will be on the shopping block along with half of the other guys on the Cubs.

Sunday, April 25th, 1:10PM - Randy Wells (1-0, 2.45 ERA) vs. Dave Bush (1-0, 2.41 ERA)
Wells and Bush have some early-season similarities. They've both made 3 starts, with Wells pitching 18.1 innings and Bush pitching 18.2. Wells has given up 22 hits, Bush has surrendered 14. Wells has walked 5, Bush has walked 6. Wells has struck out 13, Bush has KO'd 10.
But most similar of all -- both men have similar ERAs and offenses that have not supported their efforts.
Conclusions
As I write this, word in the ShoutBox is that Juan Cruz just got DFA'd by the Royals. While I shudder to think that the Cubs have fallen to the point where they need to take Kansas City's cast-offs, anything is better than Carlos Zambrano in the bullpen. Anything.
Buy Chicago Cubs and White Sox tickets at Coast to Coast Tickets!