One Way of Doing It (Game Recap: Cubs 8, Brewers 1)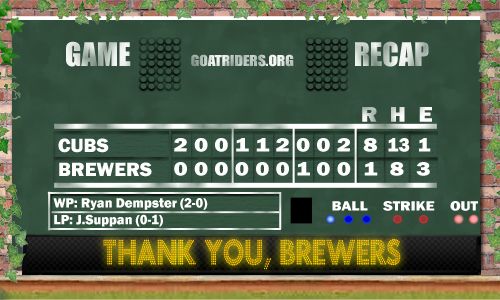 We got a pretty good overview of what happened in last night's game from Wait Til This Year's entry: Demp was strong, offense was on, game wasn't close, Cubs win.
Instead of highlighting the box score, I wanna talk a little strategy.
Ryan Dempster pitched 7.2 innings last night, and I'm raising my eyebrow at the .2 part of that number. Demp had thrown 96 pitches over seven quality innings at that point, which I guess isn't really a whole lot. But after a few more Brewers came to the plate, all of a sudden we had two runners on and just one out, which motivated Lou to bring out Carlos Marmol for another four-out non-save.
Admittedly, the game wasn't close. Even if the runners Marmol inherited scored, the Cubs would have a comfortable lead. And with Braun and Fielder already on base, there weren't many real threats in the Milwaukee line-up left.
But for the sake of whining, I'm going to argue with Lou's approach on principle. This is what he did the last time Dempster started, and the team ended up losing -- and I attributed the loss to Marmol having to get four outs, and Marshall having to pitch the tenth inning instead of the eighth. Even last night, Marmol's ninth inning performance wasn't his sharpest ever.
In close games, I hope to see Cubs relievers getting a shot at their own innings, instead of having to clean up after starters left in too long by a crazy old guy manager.
Anyways, Cubs win. Super!