The One Where They Waste A Quality Start...Again (Game Recap: Mets 5, Cubs 2)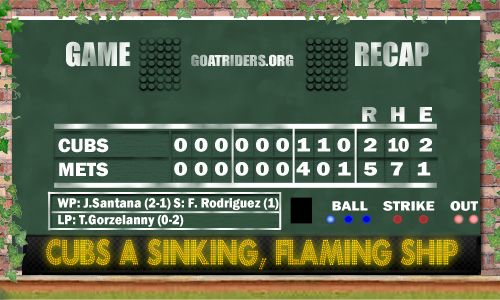 It's one thing to lose a game when the opposing team's "ace" dominates from the first pitch. It's another thing to lose when the opposing team's "ace" gives you opportunities and you can't execute.
The Cubs had a man in scoring position with one out or less in three out of the first four innings of the game. All three situations yielded a net total of zero runs. The Cubs were 1-11 with runners in scoring position and got an RBI sacrifice fly from Fontenot in the 8th inning. In total, they stranded ten men on base. Johan Santana gave up eight hits in six innings and only allowed a run. If you would have told me the Cubs would get eight hits over six on Santana before the game, I'd have been pretty satisfied. However, the Cubs hitters failed to execute when it counted. It would not be irrational at this time as a Cubs fan to want to curl up into the fetal position and wait for a brighter day.
The continued offensive drain once again overshadowed yet another quality pitching performance from the starting pitcher. Gorzelanny didn't give up a hit in the game until the fifth inning when (Future Hall of Famer) Ike Davis singled. Gorzo came close to a quality start (5.2 IP, 2 ER, 7K), but like many before him still got tagged with the loss. This season, Cubs starters have gone 91 2/3 innings and carry a 3.35 ERA (that includes Z's opening day start and all the horror that accompanies it) yet aren't getting the W's. Something's gotta give.
Logic dicates that the Cubs won't strand that many players on base every time, and that the offense will eventually turn around, but right now that logic doesn't make the salt sting any less in the wound. At the start of the year I expected the club's bullpen and starting staff to go through a bit of an adjustment period which would be a bit rocky. I also knew that the offense might struggle if Soto and Soriano continued the regression path they set out on last year. However, Soriano and Soto are carrying their weight (in Soto's case, less). The starting staff has been borderline brilliant at times. The bullpen has been... as expected. Even so, this team has performed too well in most areas to be the losers of 10 games so far this season.
I fear that sixteen games into the season some of you fans already feel weary and downtrodden. But now isn't the time to inch towards the edge of the cliff. Just know that there is a lot of games left to be played and that the team is better than it has shown us so far.
Best possible record: 152-10
Record needed for .500 season: 75-71
Record needed for 90 wins: 84-62