Series Preview: Chicago Cubs at New York Mets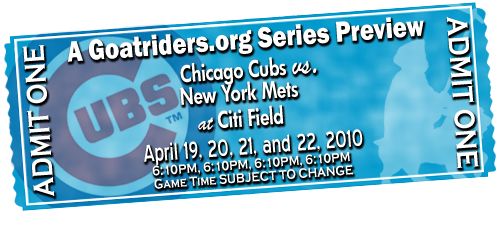 Overview
Picture Dennis Green, his bloodshot eyes glazed over, yelling into a microphone, "the Cubs are who we thought they were!" He wouldn't be wrong, and yet we are acting frustrated and angry to discover that the bullpen is a steaming pile of dog crap.
Consider the positives of this development -- would you rather a bunch of mediocre relievers got hot at the start of the season, put up respectable numbers for a while, and then fell off the planet? After all, even a crappy player can look great for a few weeks (just ask Neifi Perez). If the Cubs had started out the way we'd hoped, then we might've had to deal with who-knows-how-much suck once the pen's talent dissipated under the summer sun, and Lou and Jim held onto them out of hope that their talent would re-emerge. Instead, their soul-crushing mediocrity has already been revealed, and now Jim Hendry and Lou Piniella can start figuring out how to fix it.
But still. Holy Hell. The last few innings of the most recent games are almost certainly being played over and over on a loop in a masochist's basement somewhere. They were painful. The worst team in baseball beat the Cubs at Wrigley TWICE.
What this bodes for the upcoming series in New York remains to be seen, except that the Mets are coming off of a 20-inning mega game against the Cardinals. If our bullpen sucks worse, at least they are well-rested. The Mets are screwed. Let's take a closer look.

Monday, April 19th - Randy Wells (1-0, 2.92 ERA) vs. Jonathon Niese (0-1, 6.55 ERA)
The Cubs offense needs to have a killer's mentality here. Niese has lasted 11 innings in 2 starts, has surrendered 8 earned runs, and has looked worse than the Elijah Woods/Carrot Top hybrid that Johnny Depp plays in Alice in Wonderland.
Wells, meanwhile, has picked up from where he left off last year. He is not the most dominating pitcher to play the game, but he seems to pitch with efficiency and intelligence. New York might be the toughest offense he's faced this season -- keywords: might be -- but he should manage.

Tuesday, April 20th - Carlos Zambrano (1-1, 9.45 ERA) vs. Mike Pelfrey (2-0, 1.29 ERA)
In his first outing of the season, Carlos Zambrano pitched as though he was constructed entirely of ass. He gave up 8 earned runs. It wasn't ugly, it was ridiculous. Then, in his second game, the Moose went 7, struck out 9, and managed to shave about 43 points off of his ERA in one go. Finally, most recently, Carlos pitched 5, walked 3, struck out 8, gave up 4 runs (3 earned), and he did it on 121 pitches.
This is the reason Carlos Zambrano is never going to be a traditional ace. He has too many inconsistent games, where he's not locating a pitch, or his mechanics are screwed up. Maybe he physically can't always be successful on 4 days rest and can only be effective every other game. Maybe he's just too emotionally immature to master the thinking part of the pitching process. Who the hell knows? But if my every-other-game theory is true, he's due for a good one in New York, unless he'll be reeling from the 120+ pitches he tossed.
His opponent is Mike Pelfrey, a pitcher coming off of a 10-12 season and a 5.03 ERA, two years removed from going 13-11 with a 3.72 ERA. He's started out well in '10, but he had to pitch an inning of relief yesterday. If this doesn't jeopardize his start on Tuesday, then he should still be less-than at his best.

Wednesday, April 21st - Carlos Silva (1-0, 0.69 ERA) vs. Oliver Perez (0-1, 3.75 ERA)
Holy cow! Carlos Silva? A 0.69 ERA?! Doesn't he know that he's supposed to suck a tolerable amount of ass until Lilly's ready to return, at which point he's to be sent into the bullpen?!
Chances are, he's not really a 0.69 ERA pitcher. Odds are good that he will start giving up the hits and walks that he's known to surrender in droves. It's likely that, even if he has a year comparable to his '07 season (13-14, 4.19 ERA), he will take a thrashing now and again. I'm betting it happens sooner rather than later.
Oliver Perez is coming back from an '09-ending injury. He's 3 years removed from the best season of his career, but he's off to a decent start in 2010. Still, like Silva, he's probably closer to being a pitcher with an ERA in the mid 4's (or worse), and he'll take some beatings. Hear that, Cubs offense? He's due for a beating!
Thursday, April 22nd - Tom Gorzelanny (0-1, 1.93 ERA) vs. Johan Santana (1-1, 3.00 ERA)
Hmm. Tom Gorzelanny, who's been pitching his balls off, against Johan Santana, who's one of the greatest pitchers of this era of baseball.
Tom Gorzelanny, who's got a WHIP of 1.07 against Santana, who's allowed an unusual number of runs to score when compared to the amount of hits and walks he's given up.
Tom Gorzelanny, who looks like Sloth from Goonies, against Santana, who is a dominating lefty.
Yeah, let's just give this one to the Mets.
Conclusions
Despite their awful, horrendous, despicable bullpen, regardless of the fact that they just lost a home series against the ASTROS, ignoring the offensive and defensive struggles of some key players, it's hard to dispute that the bullpen-depleted Mets are in a position to defeat the bullpen-depleted Cubs.
I'd look -- at the very least -- for a road split. At the most, the Cubs have a legitimate shot at taking 3 of 4. Or, if you want to be a realist, you can say that they have a legitimate shot of being in position to take 3 of 4 before the bullpen squanders it. Either way.
Check out the Chicago Cubs schedule and buy Chicago Cubs tickets from sponsor Coast to Coast Tickets.